Photos: Anna Kucera
Dead Ringer
413 Bourke St, Surry Hills
www.deadringer.wtf
From the team behind the multi-award winning Sydney bar, Bulletin Place, comes this new bar and restaurant: Dead Ringer.
Don't be fooled by the name, though, as this is no carbon copy, Surry Hills-outpost of Bulletin Place.
The emphasis here is on enjoying cocktails and food, together, and the food from chef Tristan Rosier is top notch.
ADVERTISEMENT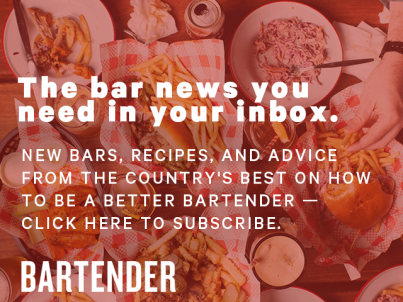 &nbsp
So too are the cocktails — like the Pineapple Adonis pictured here. It was developed as a way to get the most out of a pineapple, leaving nothing to waste, said co-owner Tim Philips.
"The drink was created by trying to make the most of the waste from producing pineapple juice. After juicing the pineapple we are left with the pulp and the skins of the fruit. The skin (which had residual flesh still on it), is dehydrated for 6 hours to get rid of excess water, then vacuum packed in the fino to limit oxidisation, for one week. The pineapple skins are then strained off, and the Pineapple Fino is re-bottled. The flesh leeches its flavour and the skin gives an earthy 'green' characteristic.
"The pineapple 'jerky' is made by blending the pulp and core of the pineapple with 100g of sugar and 2g of citric acid. This is spread thinly over parchment paper and dehydrated at 70 degrees for 10 hours. The finished product has the texture of jerky."
Get a look at their recipe for the drink below.
Pineapple Adonis

40ml Seppletfield Fino Flor (Pineapple skin macerated)
35ml Rosso Antica Rosso Vermouth
Dash Orange Bitters

Stir all ingredients and strain into coupe.

Garnish: Pineapple Jerky.