W
e often think of spice as one of those cheap little jars that have been sitting on your spice shelf for eons. Well, spice hasn't always been so inconsequential.
In fact, throughout history, spices were not only very valuable — they built empires. The English and Dutch fought for years over control of an island that produced nutmeg; the Venetians were once powerful in part because the controlled the trade of spice from Arab traders to Europe. And as spice was quite the luxury, it was desirable in your drink.
Here's a look at few different spices.
ADVERTISEMENT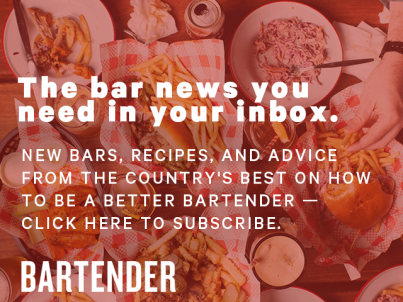 &nbsp
Nutmeg
It was the islands of the Bandas, in the Indonesian archipelago, that nutmeg came from, and it has spread all over the world. As committed drinkers, you'll know nutmeg has often been used in drinks— a sprinkle of nutmeg on top of your Flip goes a long way, and it's a key part of many a punch. And it was incredibly expensive. So much so that back in the 1500s the Portugese conquered the area; some 100 years later, the Dutch East India Company did the same thing (massacres ensued); the Dutch and the English then proceeded to fight over it for centuries.
Cloves
Cloves are also native to the Indonesian archipelago, coming from the Maluku islands. Cloves are the dried flower buds of the clove tree native to these islands, and have been sought after for centuries. The Dutch East India Company was keen on the stuff; so too a Han dynasty emperor around 210AD that required courtiers to chew cloves when talking to him in order to freshen their breath. You'll find clove as a bartender in syrups like falernum, and certain bitters.
Vanilla
Who doesn't like vanilla? It's so widely accepted as a flavour that to be called vanilla is, well, kind of insulting. This particular spice hails from Mexico, and Mexico is still home today to much production of the spice. True vanilla spice— that is, the vanilla pods pictured right — is expensive, even today. That's because the process of harvesting it is labour intensive, like that for saffron.
Cinnamon
The origin of the spice cinnamon is Sri Lanka, but it has a long history outside of its subcontinental birthplace. It was used in ancient Rome in funeral pyres; mourners would burn the spice as well as their loved ones, and the Emperor Nero burned a whole year's worth of cinnamon on the funeral pyre of his wife. Like with other spices, the Portugese were the first explorers to take over production of this spice; the Dutch soon followed (in the 1600s), and then, of course the English turned up in the 1700s. These days you'll find it in plenty of spiced rums and even gin.
Milk Punch

30ml Sailor Jerry Spiced Rum
30ml VSOP Cognac
10ml sugar syrup
120ml milk
Combine all ingredients in an ice shaker and shake briskly for 15 seconds to achieve a creamy head of foam. Pour over crushed ice into a large goblet. Garnish with a little fresh grated nutmeg.
Auld Man's Milk

60ml Bacardi Carta Fuego
1 bottle of dark ale
2 egg yolks
1 pinch cinnamon
1 pinch fresh grated nutmeg
1 pinch ground ginger
1 tsp brown sugar
Heat ale and spices in pan. Neat eggs and sugar and gradually add boiling ale to the egg mixture (continue to stir). Place all back into pot and stir until almost boiled. Add rum and pour between two tankards.
Tasting Notes
Bacardi Carta Fuego: The newest addition to the Bacardi range of rums, Bacardi Carta Fuego is a spiced rum that comes in at 40% abv and with big upfront notes of cinnamon, vanilla, nutmeg and other spices. It's got some hearty oak character thanks to the use of torched oak barrels for its short ageing period, and is full and rich on the palate with a smooth, lingering finish.
Bacardi Lion
Sailor Jerry Spiced Rum: Intense vanilla, dry buttery toffee and cinnamon notes on the nose. Cinnnamon and nutmeg on the palate along with vanilla, and a long dry finish.
William Grant & Sons