The winner of the 2015 Bartender of the Year sponsored by 42BELOW and De Kuyper was none other than Lee Potter Cavanagh.
We asked him what it felt like to take out the title, given he's been a regular feature of the Top 8 for a few years — when he's not been running bars in London and consulting on overseas projects. Meet this year's Bartender of the Year and get the recipe for one of his winning drinks below.
You have had a few cracks at the title — what's it feel like to take it out?
This competition has been an inspiration to me since I was a young bartender, those who know me know how much it means to me. For those who don't, no words will be able to describe it.
How would you rate the Bartender of the Year competition in relation to other comps?
I said this last year and I believe it still holds true. The overall standard of the competitors is so high that all of the finalists would be successful in any global competition. There were a number of bartenders who I have huge respect for who didn't even make the final eight. This isn't unusual for this competition. The standard of Australian bartending is so high, it's inspiring. Brisbane in particular seems to be really going off right now, I can't wait to head up there and check out the bars where all these amazingly passionate bartenders rattle the tins. It was also great to see more peeps from Perth this year as well as crew from Darwin and Canberra (YEW!). Where's Hobart at?
ADVERTISEMENT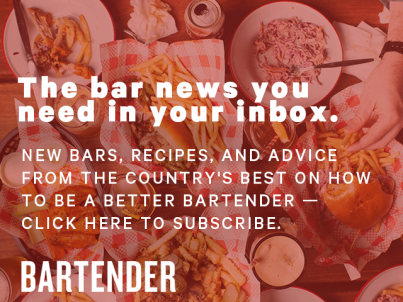 &nbsp
What advice do you have for younger bartenders thinking about having a go next year?
Don't be intimidated! Give it your all and keep trying, this was my fifth time in the final stage. Also be prepared for every round, particularly if you're from interstate you're probably going to need to organise glassware, ingredients, titty sprinkles, etc. with your mates in Sydney. If you don't have mates in Sydney, then you should probably be better behaved at Bar Week. You can't really prepare for the tasting and speed round so you just need to study for the test and make two tasty drinks. I think this will be particularly important in 2016 as you'll need to best Jenna's presentation next year. Did you see that shit? That Ned Kelly bullet in the ice thing was so dope. We need more female bartenders to stand up like that in this industry, I hope all of you ladies out there take inspiration from Jenna and Priscilla and stick it to the boys in 2016!
How would you describe your general approach to bars and bartending?
Thirsty with a disinterest in bars that seek to endlessly recreate "classic" drinks with the "original" recipe. You don't see chefs competing over who can recreate the most original recipe for a quiche Lorraine? I try to be creative while making sure that it's something that regular people who don't give a shit who Aeneas Coffey was can relate to. If we keep serving ourselves instead of engaging new generations of drinkers then we'll lose our profession. Get technical, carbonate, fat wash, do what you like but there's no need to let guests know how smart you are. Just make them tasty drinks and have fun with them.
You broke out the blender for one of your Top 8 drinks — can you tell us a bit about the thinking behind that? Is the blender coming back?
I'm not sure the blender will ever be as big as it was when I started bartending in the summer of '01-'02. I was in Cuba earlier this year and I was inspired by the high quality and simplicity of a lot of their tasty blended drinks. So refreshing and great for day drinking, who can say no to a Banana Daiquiri?! I love them because they're fun and help people escape from the everyday mundaneness of their work routines. Maybe I should hit up Vitamix for a brand ambassador job?
Take a look at the specs for one of Lee's winning drinks below…
Pan-Tasman Ringer

50ml 42BELOW Pure
1/2 kiwi fruit muddled
1 dash orange bitters
20ml "sour mix" or just Bledisloe mix, containing Hunter Valley Semillon roasted fennel and manuka honey.

Muddle kiwi fruit, add the rest of the ingredients. Shake over ice and double strain into a Nick & Nora glass. Garnish with a fennel stalk and kiwi wheel.