Melbourne's Jenna Hemsworth impressed in the 2015 Bartender of the Year sponsored by 42BELOW & De Kuyper, taking out second place overall.
Taking out second place — and her killer Top 8 presentation this year — marks Jenna down as one to watch next year. We spoke to Jenna about what it's like stepping out on stage in front of more than 500 of your peers at the Bartender Magazine Australian Bar Awards, and how she goes about preparing herself for it — and you might like to take note.
What's it like to take out the number two spot this year?
Fantastic. It's a great indication of the hard work I have put in over the last year to improve on last year's performance (top 8) and to be recognised for my own merits, there is an incredible feeling of self satisfaction that goes along with that.
Can you describe what it's like to step on stage?
So much fun! I love presenting drinks that I am proud of, and with the risks I took, my performance could have gone amazing, or a number of things could have gone wrong and left me looking really dumb up on stage! I'm glad things went well though, I was definitely shaking on the inside!
ADVERTISEMENT
&nbsp
Do you have a process you go through before you step out on stage?
I was feeling a little distracted actually, so I put some music on to get my head on straight and set out everything in front of me. I had some brief notes to remind myself of points to hit during my presentation, and some death metal really helped get me into the right mindset for battle! 
You had a memorable presentation on stage — any problems with airport security?
Why thank you. I tried to make it as dynamic and entertaining as possible, whilst still hitting all the points. For my 42BELOW cocktail, I diluted the drink — which was served over a large block of ice — by heating up a silver replica of a .44 bullet and driving it through the cocktail, melting the ice just enough to achieve optimal dilution. A lot could have gone wrong! On top of that, I had some actual bullet casings full of sparklers and mesquite wood, which when lit set off the smoke to cover the drink in a cloud of aromatic smoke. 
I actually didn't really think about taking these items on the plane until I checked in the luggage but thankfully no issues with getting anything confiscated.
Will see you next year?
There's only two ways you can get me to stop doing this competition — stop holding it, or for me to earn that trophy! Does that answer your question?
Take a look at one of Jenna's drinks below.
Rebel In Sheep's Clothing

40mL 42BELOW Pure
20mL riesling distillate
10mL mandarin oleo saccharum
3 droppers mountain pepper tincture

Diluted with a heated silver bullet over block ice. Garnished with mesquite smoke.
ADVERTISEMENT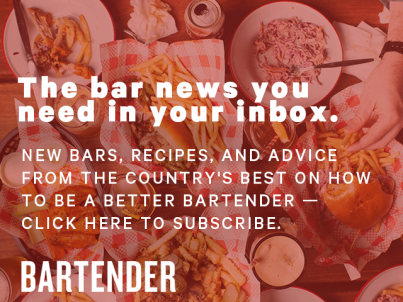 &nbsp