Maybe Frank
417-421 Bourke Street Surry Hills
maybefrank.com
I
s there a self-respecting bartender out there who doesn't like pizza? If there is, we're yet to meet them (if we did, we'd be obligated to treat them with a healthy dose of suspicion).
New Surry Hills bar Maybe Frank brings together two of life's essentials: pizza, and cocktails. Opened by business partners Vince Lombardo (La Spiagga Coogee and Pablo's Vice) and Stefano Cantino (ex-The Island, Hugos Bar Pizza) and with former Artesian (UK) bartender, Andrea Gualdi heading up the bar, Maybe Frank is doing Italian drinks and pizza their own way.
"We wanted to create a venue that was fun, relaxed and not your traditional old school pizzeria — because that's not who we are," said Lombardo.
ADVERTISEMENT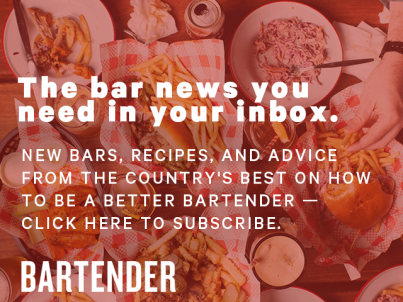 &nbsp
Located on the site of the old Pizza Mario on Bourke Street, the bar shares equal billing with the food and is central to what they do, according to Lombardo.
"The bar we made the heart of our venue and introducing this was the biggest change to the space," said Lombardo. "We both knew was a must because making great cocktails is more than simply showing up at the table with them, people love watching Andrea in action and asking him questions, we seeing it night after night."
Cantina said that with the cocktails, their taking classic Italian ingredients and putting a modern spin on them.
"We are trying to create a modern take on classic Italian cocktails with various vermouths and amaris which usually sit in the back bar," he said. "For that reason and to really showcase those products here at Maybe Frank we have two cocktail lists.
"The first one with popular classics such as Negroni, spritz, Americano and a few forgotten ones like the Bicicletta.
This is our house cocktail list I guess you could say.
"The other is a seasonal cocktail list curated by our chief bartender Andrea Gualdi. These use seasonal ingredients and Andrea mixes them with homemade syrups and classic Italian amaro and vermouths like Braulio, Cocchi, Oscar 697 etc."
They're also showcasing some craft Italian booze you may not have seen before.
"We want people to discover new flavours from Italy, that's why we are also introducing some craft Italian beer in our list such as Birra del Borgo (in collaboration with Sydney's Nomad Brewery) and a short but well-curated Italian wine list with products from Sicily to Venice," said Cantino.
"Italy produces amazing craft products which many don't know — we are proud that they are not available in Australia and we experiment and make something new and fun with these historical brands."
Maybe Frank is located at 417-421 Bourke Street Surry Hills, and is open from 5:30pm to late Tuesday through to Friday, and from lunch time on the weekend.