Lewis Halls, from Melbourne bar Black Pearl, has an enviable record in the Bartender of the Year sponsored by 42BELOW and De Kuyper — his 3rd place finish is his second final round appearance from two attempts.
This marks him down as one to watch in 2016, and we asked him how he prepared for the competition and what coming up through the ranks of a bar as respected as Black Pearl means.
You made the Top 8 two years ago, and this year took out third place — can you describe how that feels?
Well I'm very pleased with myself, I don't enter competitions often but I like the Bartender of the Year comp because it's all such a whirlwind and it's over within two days. The competitors are always gonna be tough so you know you have to work for it. I'm mostly glad I was able to represent Black Pearl again.
ADVERTISEMENT
&nbsp
How did you prepare for the comp this year?
This time I got drinks ready before coming up to Sydney, which is why it was a whole let less stressful than last time — highly recommend that. The exam I scoured the mags and info on the sponsors, but the tasting I winged.
Can you describe what it's like to step on stage in front of 500 of your peers and make drinks?
I really like it. The effort and stress before hand is so worth the satisfaction I feel after having gone through those 5 minutes. It's also great to hear the Melbourne massive cheering me on.
You've come up through Black Pearl — can you describe what it is about that place that turns out top bartenders, as it's been doing it for a long time?
Tash and the team have always hired very strictly, we work with people we want to work with. Those that had less experience (like myself three years ago) learn from everyone else's experience and eventually you're left with an amazing team who you challenge yourself against every day. We are our own toughest judges. And I love it.
Take a look at Lewis' recipe below.

Bran Kuyper Special

50ml genever
15ml De Kuyper Banana
20ml De Kuyper Café
1 egg

Dry shake, then shake with ice. Served in mini cereal bowl. Sprinkle 10 cornflakes on top.
ADVERTISEMENT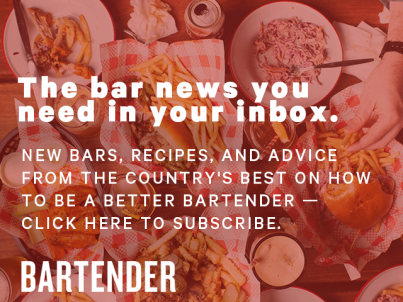 &nbsp