Kal Moore, The Gresham, Brisbane
Brisbane's Kal Moore is no stranger to cocktail competitions, as his stellar performance in this year's Bartender of the Year sponsored by 42BELOW and De Kuyper made clear — no-one was surprised when he was the first to finish the exam in 15 minutes. 2015 was his first return to the competition — and the final round — since he last competed in 2012, and if he returns for a crack again next year, expect to see him challenging for the top spot.
What's it feel like to make the final round again this year?
Honestly, I didn't really think I was going to get through this year, so to say that I was elated is an understatement. This is the fourth time I've competed in the competition, and despite being up against previous winners like Tim Philips and Greg Sanderson in the past, this was easily the most difficult year. To count myself as equals with the guys that were in the Top 8 is humbling.
How did you prepare for the comp this year? 
I guess I went through pretty much the same stages that everyone else went through. I read the magazines, familiarised myself with the sponsors products and affiliated brands, got the guys at work to throw some blind tastings at me, and started thinking of finals drinks pretty much as soon as we found out the parameters of the competition. I'm very confident with my knowledge, so most of my energy was spent getting ready for the second and third rounds.
ADVERTISEMENT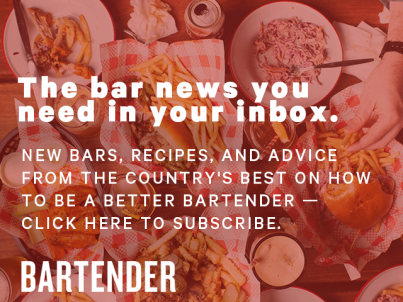 &nbsp
Can you describe what it's like to step on stage in front of 500 of your peers and make drinks? 
I'm always a bit anxious before going on to present, regardless of whether it's only to a single judge, or a group of friends, or in big comps like this one. I think the most nerve-wracking thing this year was being the first presenter, as the first person up kind of sets the tone for the others. I tried not to focus too much on that pressure, though, and tried to just be myself on stage. At that point, it was really just like any other day making drinks.
What was the atmosphere of the Top 8 group like? 
The Top 8 this year were great. There were no egos, or posturing or big noting or bragging, it was just a group of like-minded people who were all prepared to ignore their own nerves, encourage the other competitors, have a couple of drinks and jump up and do the best they could. I quite honestly couldn't be happier to count myself as one of them.
Take a look at one of Kal's recipes below:
Una Tonica Para Mi Morenita

30ml Manzanilla Sherry
20ml De Kuyper Apricot Brandy
10ml Hakushu 12yo Malt Whisky
20ml Lemon Juice
Soda

Build all ingredients into a tonica glass, then garnish with flayed dried apricot, bee pollen and chamomile flowers.