Instagram, as you know, is a phenomenon.
They
count over 400 million active users — not a patch on Facebook's 1.4 billion-plus users, mind you — and we're all familiar now with people pulling out their phones to snap a picture of their food or drink before they get stuck in. They don't even know if it's a good drink yet — like salting food before you've tried it — but they want to share what they're drinking, what they're doing, and who they're doing it with. And while the drinks we're showing here haven't been consciously created with Instagram in mind (we think), they are definitely all heart-worthy.
Dead Ringer's Yuzu Breezer
The Bacardi Breezer was one of those fabled staples of adolescent drinking for people of a certain age. (For those of us a little older, it was the West Coast Cooler.)
ADVERTISEMENT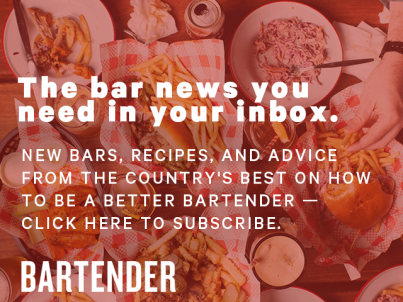 &nbsp
Bacardi retired the format in Australia, but you can get Dead Ringer's version — featuring yuzu and a whole lot of deliciousness.
You can follow Dead Ringer on Instagram at @deadringersydney.

Continental Deli Bar Bistro
This is one drink that's been garnering a lot of Instagram attention for the latest venue from the team behind Porteno. Long-time Porteno bartender, Michael Nicolian, has crafted a pre-batched Martini in a can. Complete with labelling (which features their old-school, decorative logo and fonts not out of place in the 1940s and 50s), Nicolian told us this was an invention of necessity.
Because the deli does a lot of their own canned goods, and they have their own canning machine, they needed to buy tin cans to can things in. Problem is, you can only buy these cans in large quantities — we're talking 10,000 or more territory. One way to use up those cans, thought Nicolian, was to use them for a prebatched Martini, which they call the Mar-Tinny.
It's also one of the best Martinis we've had all year, which Nicolian suggested was due to a little extra dilution.
Follow them on Instagram at @continentaldeli.
Genuine Liquorette's ChaChunker drinks
There's not really a bar we've seen quite like this one. Genuine Liquorette sits beneath Genuine Suprette, a burger place in Little Italy NYC. The drinks that are getting a lot of Instagram attention are the work of the creative, veteran bartender Eben Freeman (formerly of Tailor, where he was a pioneer in the "molecular" bartending thing). He's employing what they call the ChaChunker — a heavy machine that punches holes in cans, big enough to slot mini bottles of booze in. Hard to explain, perhaps, but take a look at the picture and you'll catch our drift.
Follow them on Instagram at @genuineliquorette and keep an eye out for #Chachunker.
The Artesian's Suspended in Time
You don't get to be named the number one bar in the world four times running without doing something special, and the team at The Artesian at The Langham Hotel in London have been going all out with their drinks.
Led by Alex Kratena and Simone Caporale, they've been well known for their concept menus and spending more money on the serving vessels than many bars can afford to spend on top-notch booze. But these are the parameters one works with when working for a top flight hotel.
Their most recent menu was premised on Surrealism, which gives them carte blanche to go nuts on their drinks. There's one drink which is served in a glass inside a Lego elephant (it's inspired by Salvador Dali's illustrations, we gather — and a love of Lego), and the other one getting much attention on Instagram is a copper ant concoction, Join The Colony (with Absolut Elyx, wheat, almond, juniper and bergamot). Or, as some Australians we know have, you can get inappropriate with the Suspended in Time (Star of Bombay, Lime, Niaouli, Yarrow, Palmarosa) pictured here.
Kratena and Caporale have now finished up with The Artesian, but follow them on the Insta handles below to see what they get up to next.
Follow Alex Kratena and Simone Caporale on Instagram at @koko_aleko and @simonecaporale_ and the Artesian on @langham_london.