We hit up the biggest bar and drinks trade show in Europe — and cross one event off our bucket list
Y
ou know about Tales of the Cocktail. It's the bartending gathering that draws thousands from across America and the world to New Orleans each July. Sydney Bar Week has been a fixture on the Australian bartending calendar since all the way back in the early 2000s. But have you been to Bar Convent Berlin?
BCB (as it's known) was founded in 2007 and launched by Helmut Adam (publisher of respected bar title, Mixology) and Jens Hasenbein and Bastian Heuser, and has quickly grown into the largest bar trade show in Europe.
Taking place in October, we were there this year to witness it for ourselves: some 10,000 professionals pass through its doors, with over 300 exhibitors and many more brands on display, it's one heck of an operation they put on.
ADVERTISEMENT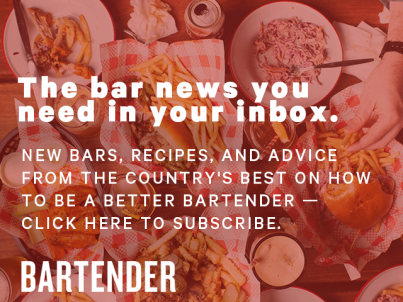 &nbsp
Taking place as it does in Berlin, Germany, a big focus for the show is on GSA products — that is, booze produced in Germany, Switzerland, and Austria — and this is one of the key reasons why BCB should be on your bartending bucket list. We only have access to a small portion of the beautiful eau de vies and other spirits being produced in this region.
BCB has a big focus on education, as well, with seminars in English as well as German for those coming from GSA areas (the fact that so many Germans speak English as well as you do makes it an easy place for lazy linguists from Australia to get by).
The Mixology Market
The Mixology Market is hosted by Mixology magazine, and it's the official first night of BCB. Literally hundreds of people queue up to enter the event, held in one of the halls that the next day will host BCB proper, and you'll get a chance to eat some great food at one of the food stalls, and sample drinks from the exhibitors. They've got a livestream of the Mixology Bar Awards, which are worth a watch as well — it's not as crazy an awards ceremony as the Bartender Magazine Australian Bar Awards, but it's always great to see good operators being recognised for their efforts.
Bar Convent Berlin Day 1 & 2
BCB kicks off at 11am, and runs throughout the day until after 6pm, so there's plenty of time to get in and get around to the more than 300 exhibitors. There's two massive halls, one smaller hall, and four demo bars in which brands and bartenders provide insight on trends and general bar geekery. That's in addition to the two dedicated tasting rooms running parallel programs — we made it to one on eau de vie, and it was a tasting of some seven different styles of top notch spirit from the GSA area. It's the stuff you can't see here in Australia — that means you have to travel; there's a whole world of booze you're missing out on otherwise.
The Mixology Stage
This is where you'll catch international luminaries in panel discussions or general how to's doing their thing: Anistatia Miller and Jared Brown talked about the art of the throw with Dan Priseman and Stuart Hudson; Jeffery Morgenthaler discussed "What I Have Learned"; and Phil Duff hosted a panel of speakers including our own Mike Enright (The Barber Shop), Ivy Mix (Leyenda, Brooklyn), Theo Watt (Drink China), Josh Harris (Trick Dog, San Francisco), Phillip Bischoff (Manhattan Bar, Singapore), and Joshua Fontaine (Candelaria, Paris), on what's happening around the globe in the bar world. Like Tales of the Cocktail, there's an influx of international bar personalities coming to this event — but you'll get a European insight into the bar industry that is otherwise hard to get.
After Parties
It's just not a bar convention without the after parties, right? Although attendees at the trade show part of BCB are pretty well-behaved — particularly by Australian standards — it's when the sun goes down that the crowd amps up. A number of brands threw big bashes — Bacardi, for instance, took over the bar at Amano Grand Central on the first night of BCB with a heaving party and a swag of top flight bartenders doing the business behind the bar (think Steve Schneider, Iain Griffiths, and Ivy Mix).