V
anguard Luxury Brands is pleased to announce the addition of its newest brand, the modern Italian vermouth, Oscar.697. The man behind this brand is Stefano Di Dio, an industry veteran who worked with Sagatiba cachaça among other global brands.
Stefano wanted to create an exclusive recipe which would be an evolution of the Vermouth tradition, without creating a break point in the Vermouth category. This project was entrusted to a person known for his honesty, professionalism and palate: Oscar Quagliarini, a famous and highly respected bartender for many years in and around Milan. Oscar plies his trade in Paris and indeed in any part of the world where he's requested for his work, his experience and his wisdom in the art of mixing.
Oscar.697 is made by Oreste Sconfienza who has been producing Vermouth since 1957, both under his own brand and for respected commercial labels. He is based in heartland of Vermouth: Calamandrana, a village of Canelli, in the province of Asti, in the Piedmont region of Italy. After three months of top secret trials and tests on different samples, it was decided that the sample coded simply n°697 was the ultimate modern evolution of Vermouth. Hence the name: Oscar.697.
There's an Australian connection with this very sophisticated brand. The sleek packaging is the work of internationally renowned Ital-Australian designer David Caon who works from his Sydney studio with brands such as Qantas Airlines and Carlton United Breweries. The simplicity of the bottle combined with the sanded glass and the plum like colour of the vermouth create a gorgeous final aesthetic result.
ADVERTISEMENT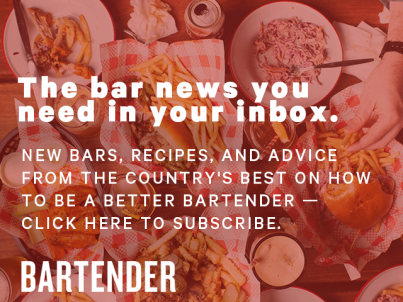 &nbsp
Oscar.697 has three varieties: Bianco, Rosso and Extra Dry. All adhere to the Vermouth production guidelines set by the Italian authorities and all ingredients are strictly natural.
* The Bianco has a strong notes of Bergamot, Yarrow Muscat and Elderflower. It is 16% ABV, while the sugar level is kept relatively low at 14% to ensure the final product is drier and more bitter than other labels.
* The Rosso has a strong notes of Absinthe, Rhubarb and Licorice. It is also 16% ABV with the same relatively low sugar percentage as the Bianco. Its rich colour is obtained naturally using burnt sugar, without added dyes or synthetic caramel.
* The Extra Dry: Having disrupted most of the unwritten rules of the category with Oscar.697 Bianco and Rosso, Stefano wanted to compete in a territory that is the traditional stomping ground of traditional French vermouths. Oscar.697 extra Dry has a strong notes of Wild Fennel, Dog Rose and Oak Infusion. The alcohol strength is 18%, while the sugar level is almost null at 2.5%. This is in order to obtain a drier product compared with other labels. It is, however, still extremely aromatic.
Oscar.697 is available now. For more information, please contact Vanguard on 1300 DRINKS or james@vanguarduxurybrands.com