Citrus is a staple of every bar, everywhere.
OK, except for White Lyan in London which famously stocks neither citrus nor ice. But just about every other bar in the world uses citrus. Why? Well, the answer is acidity, or sourness (growing all year round doesn't hurt, either). It's there in the famous Punch formulation of "one of sour, two of sweet, three of strong, four of weak", and it's present in cocktails since the Crusta.
So take a look below at our citrus explainer.
A
cidity When we talk about balance in cocktails, or wine or beer for that matter, acidity is a crucial factor. That's why we spend so much time talking about it!
ADVERTISEMENT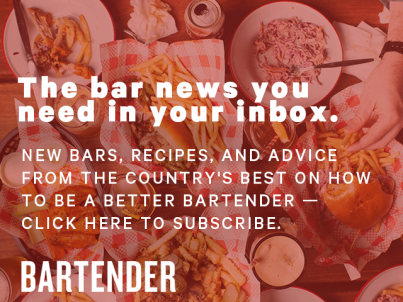 &nbsp
B
lood Oranges are only in season for a short period of time, but man it's a nice time. It can be quite a tart-tasting citrus, and is the most common orange grown in Italy (you'll also find it's the primary flavour of Solerno, an Italian blood orange liqueur.)
C
itric Acid — this sort of stuff can come in quite handy if you don't have any actual citrus available.
F
inger Lime is a citrus that is native to Australian, and looks a little different to most citrus. As the name suggests, the fruit is long, and shaped like a finger. Its acidic, much like common Tahitian limes, and has little globules of fruit ideal for garnishes.
G
rapefruit is the citrus you'll need if you're going to make a Hemingway Daiquiri (white grapefruit, at that, but hey there's nothing wrong with a little colour — just remember the ruby red grapefruit tends to be a touch sweeter.) You don't get much more Caribbean than this fruit, as it is a cross between a Jamaican sweet orange and the pomelo, and was first documented on Barbados — back in the 1700's. We're pretty sure rum was put with it before then. Grapefruit is available all year. Rum and Ting, anyone?
The Paloma

60ml Jose Cuervo Tradicional Silver Tequila
120ml grapefruit soda

Rim the glass with sea salt then add ice, tequila and grapefruit soda. Garnish with a lime wedge.
Yuzu Slushie

30ml limoncello
15ml vodka
15ml shochu
15ml Monin Yuzu Fruit Mix
10ml Sugar syrup
2 Drops Regans' Orange Bitters

Mix in a slushie machine and serve in a plastic cup. Garnish with a lemon wheel.
Adapted from a recipe by Petr Dvoracek in our archives, from his time at Ms G's, Sydney
K
affir Lime is native to South East Asia and India, the kaffir lime is more often used for its aromatic leaves in cooking.
L
emon — where would be without lemon? No Sidecar. No Crusta. No fun. The lemon itself is thought to be a cross between a lime, a citron, and a pomelo. There's a number of different lemon varieties out there, but two common varieties you'll find in Australia are the eureka lemon and the meyer lemon. The meyer lemon has less essential oils in the skin and is less suited to zesting than the eureka; the meyer's juice is sweeter than many other varieties, too. Amy Sewart writes in The Drunken Botanist that the meyer lemon is a cross between a lemon and a mandarin. Lemons are available year round but are best between June and August — limes, by the way, are best between January and April.
M
andarin is a sweeter type of citrus that is underutilised in a lot of drinks, though the peels have been used to flavour spirits like Manadrine Napoleon. Dried mandarin peels can be found in many a Chinese herb shop, and due to sharing similar aromtatic compound, mandarin goes really well with thyme. Mandarins are in season in Australia betweenn May and September.
O
range Valencia and navel oranges are two you'll commonly find in stores in Australia. Navels are sweet and juicy and grow in the winter months, valencias are best from between November to February. There's bitter oranges —also known as Seville oranges— the peels of which have been used to flavour triple sec and curacao (and yes, blue curacao, too), the latter of which traditionally used Laraha oranges from the island of Curacao.
R
angpur lime is particularly sour, and a cross between a lemon and a mandarin. Though it's not a lime at all, it's high acidity means that it can be used as a substitute. It has a long history of being grown in Bengal, in India.
S
our Mix was once the staple citrus in many USA bars, and to an extent in high-volume "cocktail" bars in Australia in the days before the bartending renaissance. Best avoided these days for fresh citrus, as citrus is one of those things that doesn't keep too well.
Y
uzu is a fruit from East Asia, popular in Japanese cooking thanks to its aromatic zest. Thought to have arrived in Japan in 600AD from China, it's a cross between a mandarin and Ichang Papeda from China, according to Amy Stewart's
The Drunken Botanist
.
Tasting Notes
Routin 1883 Grenadine
Floral, fruity notes on the nose. On the palate, notes reminiscent of pomegranate; starts with a round flavour then fades into a slightly tart aftertaste.
PosiPour
Jose Cuervo Tradicional Silver Tequila
This is 100% blue agave tequila. The agaves are cooked in an artisanal way, for between 36 and 40 hours. It has a fresh, crisp taste, ideal for cocktails.
island2island
Monin Yuzu Fruit Mix
Monin's new Yuzu Fruit Mix offers a tangy and tart citrus fragrance, giving your cocktails a slight Asian twist and affording a new way of looking at classics.
Stuart Alexander