I
f there's one classic cocktail ingredient that is irreplaceable, it has to be Angostura Aromatic Bitters. Few others have the unbroken history — since the 1800s — of being used in classic cocktails; there's no other that has the rich, aromatic, and bold flavour profile.
"The key to Angostura is that it's a heavily aromatic bitters," said James Irvine, who looks after the cocktail program for
Sydney's award-winning Swillhouse Group.
He should know, as he's also the reigning Australian Angostura Global Cocktail Challenge champ.
"Overall it accentuates drinks; it's the defining element as well," he said about Angostura Aromatic Bitters. "It's such a universal ingredient, you can use it in anything from a really fresh, vibrant drink like the Pegu Club or something a little bit heavier and more boozy, like the Manhattan."
ADVERTISEMENT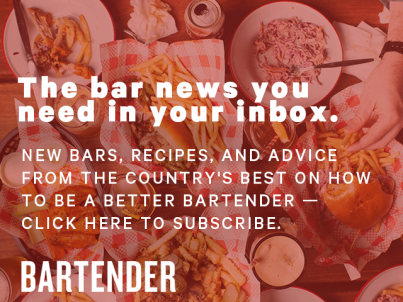 &nbsp
Here, Irvine makes us five classic cocktails in which Angostura Aromatic Bitters is essential.
Pegu Club

45ml Broker's Gin
20ml Fresh Lemon Juice
15ml Cointreau
1 Dash Angostura Aromatic Bitters
1 Dash Angostura Orange Bitters
Dash of Sugar Syrup

Shake and fine strain into a chilled coupette. Garnish with a lime wedge.
"I do think it is one of the better balanced sour cocktails, it's not something that smacks you in the face with sour," said Irvine. "The Angostura Aromatic Bitters really accentuates the drink's elements.
"I could drink this any time of year. I think it's a really nice — boozy — Lemon Lime and Bitters."
Delmonico

30ml Broker's Gin
15ml H by Hine
15ml Sweet Vermouth
15ml Dry Vermouth
2 Dashes Angostura Aromatic Bitters

Stir and strain into a chilled cocktail glass. Garnish with an orange twist.

Stir down all ingredients, garnish with an orange twist.
The Delmonico is "named after America's first licensed restaurant in New York City," said Irvine. And the role of Angostura Aromatic Bitters in the drink?
"It's accentuating all the ingredients," he said. "It blends those notes of dry, sweet, and spice really well."
Manhattan

50ml Rye Whiskey
20ml Sweet Vermouth
2 Dashes Angostura Aromatic Bitters

Stir and strain into a chilled cocktail glass.
"The Manhattan is probably one of my top five favourite drinks," said Irvine. Here, Angostura Aromatic Bitters is needed as the partner to a high-rye content, high-proof whiskey.
"You're matching strong flavours with strong flavours," said Irvine of the interplay between Angostura Aromatic Bitters and the rye whiskey. "You're lifting the drink when you're adding Angostura. It's a necessary addition."
Queen's Park Swizzle

60ml Angostura 1824
15ml Demerara Syrup (2:1)
15ml Fresh Lime Juice
8-10 Mint Leaves
6 Heavy Dashes of Angostura Aromatic Bitters

Build with crushed ice in a highball glass and swizzle. Garnish with a fresh mint sprig.
This drink comes from Trinidad, and employs a famous Trinidadian in its recipe: Angostura Aromatic Bitters. "I consider it as a bartender's Mojito," said Irvine of the drink, "using a richer style rum and a richer style of sweetness as well. Refreshing, easy to drink, but also a lot of fun."
Irvine said that because it's served over crushed ice, the extra drops of Angostura Aromatic Bitters are essential to maintaining flavour.
Angostura Fizz

30ml Angostura Aromatic Bitters
30ml Fresh Lemon Juice
10ml Heavy Cream
5ml Grenadine
Dash of Egg White
Dash of Sugar Syrup

Very hard dry shake, very hard shake. Fine strain into a chilled goblet. Garnish "with ripe pineapple, always", as Charles H. Baker wrote.
This drink is found in the works of Charles H. Baker. Don't let the full shot Angostura Aromatic Bitters put you off — it's a beautiful vehicle for showing off the complex and aromatic flavours of the Angostura Aromatic Bitters.
"A lot like a Ramos, you have to shake the bejeesus out of this," said Irvine.