I
n 2016, the Bartender Magazine Australian Bar Awards are back again for their 16th year — and this year, we've added five new awards to the proceedings.
The selection of spirits available to bars in Australia has never been greater, and that's afforded bars the opportunity to take deep dives into a single spirit category. So for the first time, we'll be presenting awards that recognise those bars with a passion for a particular spirit, with the addition of awards for Whisky Bar of the Year, Gin Bar of the Year, and Rum Bar of the Year.
We're also proud to announce the Phil Bayly Award for Tequila Bar of the Year. There's been no greater advocate for tequila and agave spirits than Phil Bayly — he owned Sydney institution and tequila destination, Cafe Pacifico, for 15 years; last year he hosted Agave Love, the largest gathering of agave lovers in the southern hemisphere (and will be taking the show into Asia this year); and he continues to spread the agave gospel to bartenders around the country.
"We're honoured to have Phil Bayly associated with the Tequila Bar of the Year award and to be able to recognise his achievements in putting tequila and agave spirits on the map," said David Spanton, Australian Bar Awards founder and Bartender Magazine publisher.
ADVERTISEMENT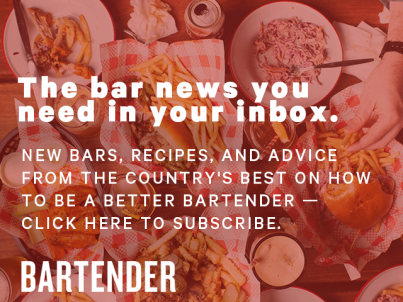 &nbsp
"It would just feel wrong not to have Phil's name associated with this award, because Cafe Pacifico set the standard for the tequila bars that followed it," he said.
"It is truly humbling to have this award named in my honour," said Bayly. "To see the tequila category and agave spirits in general achieve the respect and recognition that it deserves could not have happened with out the industry's support. Thanks to all of you and thank you Bartender Magazine for supporting this project. Best regards and #agavelovethistown!"
The winners of these new awards will be those bars who are known for their gin, tequila, rum or whisky focus, with staff who know what they're talking about, a substantial, interesting back bar dominated by their particular spirit of choice, and an emphasis placed on sourcing hard to find bottles you can't get elsewhere.
We're also introducing the Hotel Bar of the Year, because there's nothing better than checking into a hotel and slipping down to a top flight bar for a drink. The winner of this award will be the type of bar within a hotel providing accomodation that offers great service, is staffed by passionate, knowledgeable bartenders who go the extra mile for their guest, and is the kind of bar that you want to visit even if you're not staying at the hotel.
Voting opens on March 1 this year — keep an eye on australianbartender.com.au for more details to come.
The Bartender Magazine Australian Bar Awards will be held on Tuesday, the 20th of September at Doltone House, Pyrmont. This is the 16th year of the Bar Awards, and it's come to be known as the Oscars of the Australian bar industry. The Bar Awards is the big final event of Sydney Bar Week, which takes place this year between Saturday 17 September and Tuesday 20 September.
For more information on how you can sponsor these and other Bar Awards, email David Spanton on david@spantonmedia.com.