B
ack in October, three of Australia's top bar owners — Dave Kerr of The Beaufort, Mike Enright of The Barber Shop, and Statler & Waldorf's Steve McDermott — joined Bacardi ambassador Sean Forsyth on a pilgrimage to the new home of Bombay Sapphire, Laverstoke Mill.
"Our trip to Laverstoke Mill was nothing short of amazing, I feel incredibly fortunate to have been invited along on what turned out to be an incredible and inspiring journey," said McDermott.
Opened in October 2014, Laverstoke Mill sits on the site of a mill that dates back to at least 903AD, with its first mention on record as a corn mill in the Domesday Book — a survey of England commissioned by William the Conqueror — dating to 1086. Located in Hampshire, it is now home to the Bombay Sapphire Distillery, and was revamped under the direction of designer Thomas Heatherwick.
Here McDermott and Kerr share some insights into what it was like to visit the distillery, and their impressions of Sam Carter (Bombay Sapphire ambassador) and Nik Fordham, Bombay Sapphire's master distiller.
ADVERTISEMENT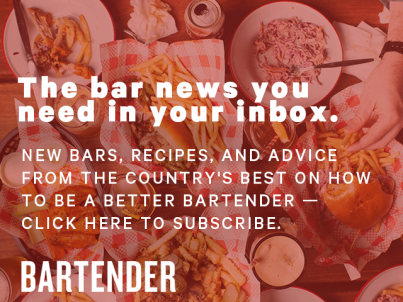 &nbsp
"Once at Laverstoke, Sam Carter spared no time showing us around," said McDermott. "The distillery has been designed to be super interactive, you get to see the botanicals growing in two custom glass greenhouses. There are rooms to touch, smell and taste dried and prepared botanicals, kind of like a giant walk in aroma kit. Very cool!"
"Sam Carter, the distillery ambassador was an incredible host and his involvement in starting the distillery gives a strong sense of family to the project that just felt so genuine," said Kerr.
"The time came to meet Nik Fordham and see how the juice is made," said McDermott. "Seriously, this man is a genius! His passion and creativity are matched only by his attention to detail. Where others running an operation this big would look to make things easier for themselves, Nick sees opportunities to do better, think outside the box and make environmentally ethical changes to the way he makes gin. And he does it all bloody well!"
Kerr was equally impressed by Fordham.
"I wish Nik Fordham was my Dad in truth," said Kerr. "The guy is so passionate about that distillery and his understanding of literally every nut and bolt in that place was inspirational. Yes, he's a fantastic distiller, but I still can't get over how much of an artisanal, hand built operation his input makes the experience feel like. For me, it turned the brand into something with true heart and soul as opposed to an industrial, faceless machine pumping out gin for the masses. This was due mainly to Nik and his passion for the whole facility and his no nonsense approach to everything. There was so much anecdotal stuff to come out of the tour, above and beyond the stills and botanicals.
"And, that glasshouse. Enough said."