Ivy Mix is a hot name in the drinks world right now. In fact, if there was a bar industry poll of hot personalities (think Sexiest Man Alive or Time Magazine's Person of the Year) she would probably be number one. 2015 was a big year for the Vermont native – she went into partnership with her mentor, Julie Reiner (Clover Club & Flatiron Lounge) to open Leyenda but she was also named American Bartender of the Year 2015 at the Tales of the Cocktail Spirited Awards in New Orleans last July.
"Ivy has been one of my standout mentees over the years and an invaluable bartender at Clover Club," says Reiner, Co-Owner, Leyenda, when asked why she backed Ivy for this gig. "She is highly motivated, fearless and a true powerhouse. When a space became available right across the street from Clover Club, it was the perfect match. I'm delighted to help construct a stage for her to enjoy the spotlight and have her deep expertise and artistic vision really shine."
Leyenda, meaning legendary, is a pan-Latin cocktail bar that opened in back in May 2015. It's located in the Carroll Gardens area of Brooklyn which is starting to be a gastronomic hub says Mix. "There are a lot of fantastic restaurants and bunch of bars popping up. Clover Club is across the street! It's pretty great," she adds.
ADVERTISEMENT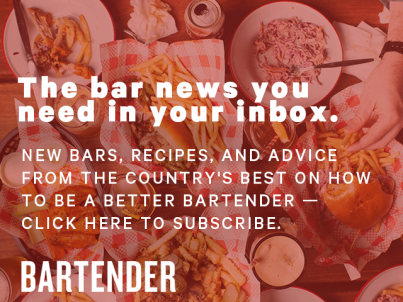 &nbsp
The bar, Mix's first one in the captain's chair and she is definitely the driving force. The Latin theme pays homage to Mix's years of living and bartending in Guatemala, as well as extensive travels throughout Mexico, Peru and Argentina. The cocktail menu, designed by Mix, salutes tequila, mezcal, rum, pisco, cachaça, sotol, raicilla and more.
Signature drinks include the Tia Mia (mezcal, rum, lime juice, orgeat syrup and Curaçao liqueur), a Mai Tai variation; the Palo Negro (reposado tequila, Palo Cortado sherry, blackstrap rum, Grand Marnier and Demerara syrup), a robust stirred drink bridging the gap between Spain and Mexico; and, the Stir Key (featuring rums from Jamaica, Bermuda and St. Croix, macadamia nut orgeat and aromatic bitters).
Ivy is joined by her dream team at the bar. "They are simply the best," she says. "Our servers on the floor are a mix. Some came from Clover and some just joined the team. They're super strong. I hired a real mix of bartenders. Some also came from Clover and I've worked with for years. Others are new into the field and come from different backgrounds which is really exciting to see the crew mix."
The bar itself seats 12, with table seating for 50 inside, as well as 15 to 20 at an outdoor patio. Harnessing that Latin energy with Indio candles, cathedral-pew booths and a tin ceiling imprinted with crosses the bar is definitely stoking its legendary fire. According to Mix, the look of teh bar was conceived by her and her friends Carl Myers, Jacob Perkins with Red Hook Design Alliance. "I know Carl from when I lived in Guatemala, he is a designer," she says. "And I went to College with Jacob Perkins. It was a great crew. It really came together."
Leyenda features dishes by Consulting Chef Sue Torres, a noted restaurateur most recently of the highly-acclaimed Sueños. While an acknowledged expert in Mexican cuisine, Torres' menu at Leyenda is in keeping with the bar's overall pan-Latin concept and showcases a wide variety of authentic cooking traditions, techniques and ingredients, as well as family recipes from Puerto Rico. Dishes include Coconut-Habanero Shrimp Panuchos; Goat Picadillo Tacos; Tequila Shrimp Arepa; Colombian Papas Rellenas, Cheese & Black Bean Pupusas with Chicharones; Churrasco Skirt Steak Skewers with Chimichurri; and, Grandma Torres' Pernil.