W
ith just a week until the 2016 Bacardi Legacy Australian champ is announced, we thought it would be a good time to take a look at the Three Most Promising — and recap some of their video escapades.
We'll get to that in a minute. First, though, it's worthwhile recapping how they got to this final round, and where the winner will be going next.
The Three Most Promising were named five months ago and came out on top from a record number of entries into Bacardi Legacy. The Three Most Promising were Pete Hollands with his drink, the Treaty of Paris; Andrew Bennett with his drink, The Seventh Art; and Igor Pachi with his drink, El Pasaporte.
Each of the Three Most Promising have had five months and $2,500 spending money — and a case of stock — to promote their Legacy drink both in Australia and abroad. Come Tuesday night in Sydney, we'll be finding out who will represent Australia at the Global Finals of the Bacardi Legacy Cocktail Competition in San Francisco.
ADVERTISEMENT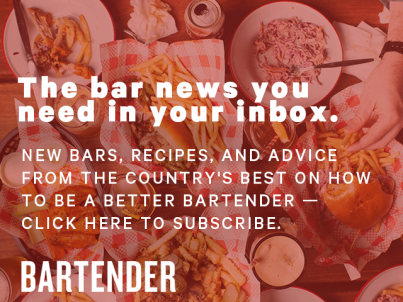 &nbsp
So who will be competing for the title? Take a look below.
Pete Hollands, The Gresham, Brisbane
Treaty of Paris
Pete Hollands is flying the flag for Brisbane, and he's seen his drink popping up on menus in top bars across the land. Take a look at the video he made for his drink, The Treaty of Paris, which went live on the global Bacardi Facebook page (you'll need to be logged into Facebook to see it).
Andrew Bennett, The Classroom, Perth
The Seventh Art
Andrew Bennett riffed on some classic movies for his drink, The Seventh Art, producing some wonderfully wrong videos — like this one with Simon 'The Hoff' Hough and a Red Eye. He managed to get his drink on menus across the country and in to Event cinemas — not a bad feat if you ask us.
Igor Pachi, Assembly, Sydney
El Pasaporte
The Sydney-based bartender has seen his cocktail made in bars right round the country, and he's even taken it afloat, with a two week stint on a cruise ship. Take a look at Igor below presenting his drink, El Pasaporte.