Merivale is known as one of the country's most influential hospitality groups, and it's no easy gig to work for such a group. This month we're talking to Sam Egerton, who has spent the last few years with the group — first at Felix, then as bar manager at the award-winning Palmer & Co. He's now taken his talents to Merivale's foray into Sydney's east, The Paddington, so we thought we'd catch up for a chat about his career so far and what he's learned.
As told to Sam Bygrave
I started studying law straight out of high school, I think mostly because my parents forced me into it. I had this weird idea that it would be like what you see on the television — I quickly realised that it wasn't, and it wasn't something I want to do.
I was bartending in a restaurant that turned into a nightclub when I was back in Christchurch, and I realised I was enjoying that, and the social aspect, more — and what draws younger bartenders in, which is drinking and partying — and that spoke much more to me at the time than going to university. Naturally, university fell by the wayside.
I'd probably been [in Sydney] for the three years, opened the Kings Cross Hotel when that first opened, then went to The Lincoln for three years. The Lincoln was pretty transformative for my approach and view of bartending.
ADVERTISEMENT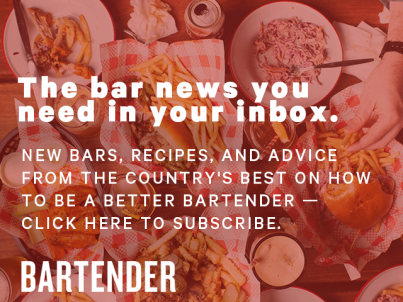 &nbsp
I worked with Zdenek Kastanek for just over a week — that week I spent working with him completely changed the way that I saw bartending, seeing someone who was so passionate.
He always quizzed people behind the bar, and he had this quiz about ten uses for a beverage napkin — that kind of innate approach and love for all things booze, was very new to me. The Lincoln introduced me to a whole circle of passionate people and if it wasn't for that place, I wouldn't be where I am today.
After The Lincoln closed I took a couple of months off, went home and helped my dad on a saffron harvest — which I'll never do again — and then came back and started working at Felix. I started there as a bartender and it was probably four months into there that I realised I didn't want to be a bartender — I love bartending, but I didn't want to be just a bartender. I realised a long time ago I'm much better at being that person who helps to drive and push a team, because I constantly need to challenge myself again and find new ways to explore.
Then Palmer & Co opened, and I applied for a job there — initially I was turned down, they gave the role to another guy. The bar went absolutely gangbusters, and as it is today, it's probably one of the highest volume bars in the city. So I was brought on board because of that volume.
I spent a year and a half building a team I thought were right for that role, then spent the following year and a half really enjoying the fruits of that labour.
I came from that hospitality background — which I don't think is around much any more — where you were told something and you just did it without question. These days everyone's got a, "Why?" Which is a good challenge.
I came from a very much a serious, you-have-to-prove-yourself [environment]. One of the things [I get] are that I'm really serious — the only nickname that ever stuck was Serious Sam. So I've learnt to soften up somewhat, and definitely realised that you need to figure out what motivates people.
Especially working for a company that has such high volume, you can't just yell at people because they're going to break, and they're going to leave. And when you spend so much time invested in training and developing and you want that core family environment, you can't. You have to find what their motivations are.
They have to be passionate, you have to want to know more, as in a thirst for knowledge, and it has to be someone who goes over and above. You get people from time to time for who this is a means to an end, this is their paycheque — they check in and check out. And there's nothing wrong with that, you don't need everyone to be a leader. But the people that are going to be leaders are the people that are out helping people around them. You see them, they are enigmatic — people are attracted to them, and people follow what they do.
You need to treat the business like your family, and you need to treat the place you work like your home. If you create that environment — and there has to be a social aspect to it as well. You don't have to go out with them at the end of the night and go bending with them, but the social aspect in that you actually care about them as people outside of work. You take ten minutes a week to talk to them outside of service, just about shit — that's how you get people to stay.
Attention to detail. If you see straws and shit on the ground, it starts with that, and in six months time your cost of goods is out of place, your staff are shitfaced — if you're able to take a look around this place and it looks like it does now before service in the middle of a busy service, that's how you know you've got a well run venue.
You've got to love the place you work in — you have to. You've got to find that love. I think to an extent Palmer & Co might have had Stockholm syndrome from being in that basement for so long, but I loved it. I have a Palmer & Co playlist I play quite heavily at home. I loved it, and that made it.
Never accept anything less than what your vision for the venue is, but always be ready to accept that mistakes will happen. Every time a mistake happens you look and think, how can we make this better?