F
or 16 years, Melbourne's Black Pearl has been a beacon for bartenders wanting a great drink and a great atmosphere, and at the helm of that ship throughout it all has been Tash Conte. Her influence on the Australian bartending scene is hard to overstate: no other bar has the track record of putting out consistently incredible bartenders. Three Bartender of the Year winners (in
Tim Philips
,
Chris Hysted
, and
Nathan Beasley
) have worked at the bar, along with countless other top-flight bartenders. And that it's a destination for so many bartenders after a shift is evidence enough to see why she's come in at second place on our Most Influential List sponsored by Angostura Aromatic Bitters.
Check out our interview below.
What are you working on at the moment?
At the moment we are focusing on bringing elements of what we prepare in the kitchen into the bar. So much time is dedicated to sourcing and making these interesting foams, syrups, salt and herb mixes etc. for the cocktails and the customers are unaware of that fact as it's simply an ingredient that's noted in your menu. We just wanted to add to that point of difference on the back bar so you aren't just looking at rows of booze. It also aids in the patron engaging conversation with the bartender out of interest. We have done this for some time, but now it will be a predominant feature of the back bar. Such things amongst the bottles are jars of our local cherries that we marinate in-house and tapped decanters of our house-made syrups.
Which concepts/trends do you think we'll see in 2016? What do you want to see take off in 2016?
I think 2016 will carry over a few trends from 2015 such as using foraged vegetal ingredients, vermouths, and aperitif-based cocktails, but I think you will see a definite rise in the volumes of those who have already engaged in those areas and you will see others start to move toward them.
I think there will be a resurgence of mezcal and tequila as they have been on the rise for a little while. Obscure ingredients and alcohol is always on our list but it's definitely more common in other bars now and lastly, bartenders are being more creative in regards to the vessel the cocktail is served in. We personally have a few beauties coming up, it not only looks great, it removes the element of garnish for garnish sake and it starts the story of the cocktail with out too much investment in the kitchen.
ADVERTISEMENT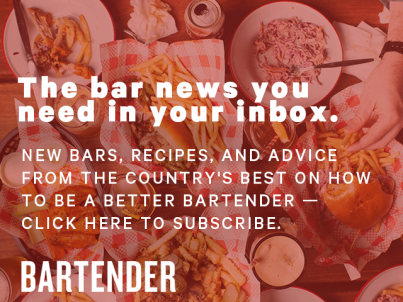 &nbsp
If you were face to face with your 21 year old self, what advice would you give them?
What would I say to my 21 year old version of myself ?
1. Travel and experience as much as you can early in your career!
2. Be true to your passions and fulfil them.
3. Stop and embrace what's around you, family and friends.
4. Surround yourself with people that will truly be there for you and vice-versa.
5. Don't be afraid to fail, every journey has its reasons for being dealt to you.
6. Don't doubt yourself.