H
ere's #4 on our Most Influential List sponsored by Angostura Aromatic Bitters. Sven Almenning has made an appearance on this list every year it's been held, and the influence that Speakeasy Group — which includes Eau de Vie Melbourne and Sydney, The Roosevelt, and last year's New Bar of the Year winner, Boilermaker House — has had on the Australian scene is evident in the numbers of bartenders who make the pilgrimage each Sydney Bar Week to Eau de Vie. Below, he tells us about how he got be where he is today, and suggests a whisky a day for good health (we're inclined to agree with him).
Can you tell us a bit about your first bar job?
I took a bartender course in Inglewood, LA back in 1996 whilst living in Venice Beach. I did a couple of small jobs there, mostly for free board and lodgings, however my first proper bar jobs were at a Tequila Bar in Auckland called Margaritas, as well as a Brazillian Tapas joint there called Ole. I started off as a bar back at Margaritas, and as a waiter at Ole, but ended up tending bar at both before eventually leaving Margaritas to focus on Ole. I also did a lot of function and event work when I was there and remember pretty much working 16-18 hour days 6 days a week.
What are you working on at the moment?
Well – there's a few things in the works at the moment. I'm spending a lot of time working on a new tech-start up called Ananas that will play in the hospitality field, but I am also looking at a few new bar openings and am in discussion regarding a couple of different things at the moment. In addition, someone just acquired 50% of the Experimental Spirits Co so there are a few things happening there as well…. I also try to spend as much time as possible playing Lego with my kids Odin and Loki.
Which concepts or trends do you think we'll see in 2016?
•Bottle cocktails. I believe Eau De Vie was the first bar to release a range of bottled cocktails that were for sale both in store and in venue.
•Whisky, whisky, and whisky. The thirst for whisky seems unquenchable at the moment, so I am sure we'll see more whisky bars opening up, as well as more and more whisky brands arriving in Australia.
•Specialised bars in general will continue to spark consumer interest.
ADVERTISEMENT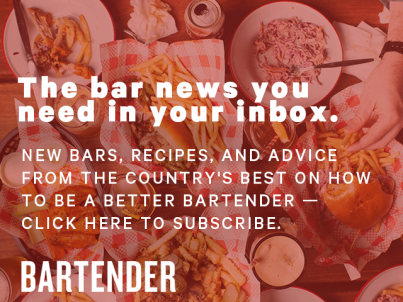 &nbsp