There's an often misquoted line from F. Scott Fitzgerald, about there being no second acts in American lives. Fitzgerald fans might note that the full quote is actually: "I once thought that there were no second acts in American lives, but there was certainly to be a second act to New York's boom days." The same could be said of Irish whiskey.
There were over 90 legal Irish whiskey distilleries coming into the 1800s, though that would come down in number. But, thanks to consistency and quality, it had gathered a reputation the world over and demand for their drams was high. The USA, before Prohibition, was the largest export market for Irish whiskey.
But a confluence of events — the rise of Scotch (thanks to their embrace of blended whisky), World War One, export restrictions, their own Temperance movement, and the death knell of Prohibition — left the Irish whiskey industry weak.
In the 1950s there were just five distilleries left. Then in 1966 Jameson, Powers, and Cork Distilleries merged to form Irish Distillers Ltd, with all their whiskeys (bar Bushmills, made in Northern Irleand) coming out of the Midleton distillery.
However, there was to be a second act for Irish whiskey.
The Cooley distillery opened in 1987 (the first such opening for more than 100 years); Jameson would go on to blaze a trail for Irish whiskey around the world, so too Bushmills. And today, Tullamore D.E.W. has opened a new distillery; there's a new one on the way from the makers of Writers Tears, too. The brands available on the market dwarf the offering even just ten years ago, and bartenders are turning to the Irish stuff more and more.
ADVERTISEMENT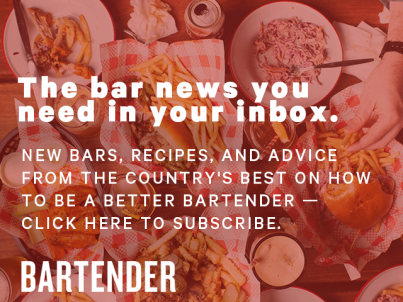 &nbsp
Here, we take a look at four Irish whiskey cocktails you can add to bow, and take a look at some of the top flight Irish whiskeys available in Australia.
What is Irish Whiskey?

Irish Whiskey must be made (distilled and aged) in either the Republic of Ireland or Northern Ireland to be called an Irish whiskey.
The spirit must be aged for a minimum of three years in oak casks.
The spirit must not be sold at less than 40% abv.
The Irish spell whiskey with an (e) as do the Americans (except Makers Mark) while the Scottish drop the (e). The word means "water of life".
Must be made from grain (notably barley), must be made from a yeast fermented mash.
Most Irish whiskey uses unpeated malt to create a smoother, lighter spirit. The Scots are renowned for a more full flavoured and peaty whisky.
Most Irish whiskey is distilled three times to reduce unwanted elements like fusel oils and congeners that also help create a smoother spirit, whereas the Scots tend to distill twice creating a more complex flavour profile.
Short & Stout
40ml Jameson Caskmates
20ml Stout syrup
Add all ingredients to a mixing glass over ice and stir to chill, then strain into a cocktail glass. Garnish with a flamed orange peel.
To make the Stout syrup:
Use one part of local black stout to one part caster sugar.
Stir to dissolve, heat very gently if required.
Weeksi
40ml Jameson Caskmates Irish Whiskey
20ml Lillet Blanc
15ml Cointreau
2 dashes of orange bitters
Stir and strain into a coupe. Garnish with an orange twist.
Adapted from a recipe by David Wondrich
Whiskey Smash
50ml Bushmills Irish Whiskey
4 mint leaves
3 lemon quarters
20ml curacao
Lightly muddle mint and lemon, then add remaining ingredients and shake with ice. Double strain into rocks glass with ice. Garnish with mint sprig and lemon slice.
Adapted from a recipe by Dale DeGroff
Plummy Ache
50ml The Tyrconnell Irish Whiskey
20ml poached plum rose syrup
30ml lemon juice
10ml Laphroaig to float
Shake ingredients (except Laphroaig) with ice and fine strain into a rocks glass over ice. Float 10ml of Laphroaig on top.
Adapted from a recipe by Joe Worthington, Della Hyde