This month, we're hearing from Adam Cork. He's the bar manager at Potts Point bar, Jangling Jack's, and counts both The Hazy Rose and the Match Group in the UK on his resume. Here, he tells us about the legendary training of the Match Group, the pleasures of working in a small bar environment, and making the move from design to bartending.
I travelled to the UK and was doing some freelance design and stuff, and essentially it dried up a bit and I felt I had to find a source of income that was going to be a bit more steady.
I started to wait tables, and I started being really persistent in wanting to learn what was going on behind the bar. I got trained up in that respect, and never looked back.
Similar to this industry, [design] can be really creative. You get a different brief most days and you can run with it. The thing I didn't like about it was sitting behind a desk. Sitting next to the photocopy. The glow of the screen in front of you just killed me.
I like the interaction with the customer. One of the best things about this industry is you can have a laugh with everyone. When they come in, they have a really nice time — we provide that service. From when you greet them as they come in, you say how is your day, and that can really stand out to them. It can make or break someone's day. And then they sit down at the bar, you keep looking after them — it's a really nice thing about the industry.
ADVERTISEMENT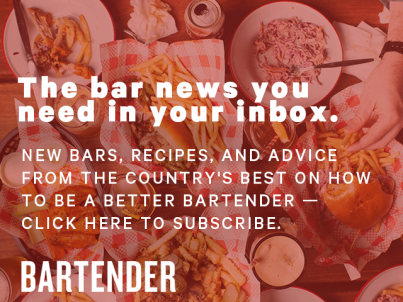 &nbsp
I got trained up the through the Match Group [in the UK]. They had such an amazing training program. First Tuesdays of the month, everyone was invited down to The Player. Every week was a different spirit, they'd do an exam, we'd have a tasting, we'd get different people in the industry to come in and talk to us about their experiences. It was phenomenal training.
I started off as waiter. Everyday I was going in and I was asking a lot of questions. Then the head bartender would come in and I'd have to go and setup with him, break down the bar with him, make certain drinks with him. I had to sit down with the group head bartender, my head bartender, the venue manager, and one of the execs from the company and make a round of drinks in front of them. That was before I could properly go in the bar. That made my pay go up and allowed me to actually work a shift behind the bar.
We opened Jangling Jack's to be like the everyman's bar for the area, aimed at the locals. We're just striving to have good product: good food, good wine, good drink, good ambience — just good times for everyone to come in.
You can sit here, have a steak, have a beer, we're just easy going — we don't want to be pretentious.
If I'm going to have a cocktail I just like anything gin-based — a London Calling would be my favourite.
I worked at The Hazy Rose for just under two years. I loved it. That was my first proper gig coming back to Sydney, and [owner] Dominique [Easter], she did a lot for me. Working alongside Harriet and Brendan, every night talking about spirits, having a laugh obviously, keeping the mind ticking over.
It was nice to be part of that little family run business for a while. Everywhere I worked in the UK was on such a large scale, that it was nice to come back to something a little bit smaller. It's nice to know people care, I guess, rather than have some crazy owner come in and point and yell.
The Nielsen
40ml of caramelised pear puree
20ml lemon juice
40ml tequila
10ml amontillado sherry
10ml sugar syrup
2 dashes of orange bitters
Shake all ingredients, serve on the rocks. Garnish with blue cheese.
Recipe by Adam Cork, Jangling Jack's