Pink Moon Saloon
21 Leigh Street, Adelaide
pinkmoonsaloon.com.au
Pink Moon Saloon is a bar that we're quite comfortable saying is unlike any other — just take a look at it.
Wedged into what was once a service laneway — off the lane that is Leigh Street — Pink Moon Saloon was inspired by the nostalgia of going camping as a kid, said co-owner Marshall King.
"The original idea of Pink Moon Saloon was trying to imbue the feeling of going camping, that childhood nostalgia of cooking over fire and all those wonderful memories, into a quality bar setting — without falling into overly masculine "beards and axes" or American smokehouse territory," he said. "We looked to references like Thoreau's Walden and Anderson's Moonrise Kingdom for inspiration – being in nature but in a romantic, quirky and not-so-serious way — to be in nature but in comfort, with the smell of smoky meat, the clink of glasses and the taste of beer and whiskey — having a bit of a laugh."
ADVERTISEMENT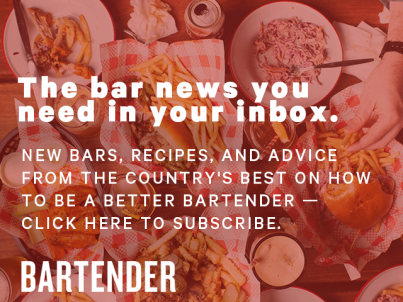 &nbsp
The drinks are under the experienced guidance of Edward Alder (ex-Loft Wine Bar) with a short, focused list on offer.
"Brevity is the key here for us," said King, "our thinking is that people can only process so much in a very small, busy environment. The cocktail list is limited to five drinks at any one time (availability of classics is of course implied) which change on a seasonal/when we get bored basis — usually every couple of weeks."
One feature of the bar is getting a lot of love at the moment, and that's the frozen Daiquiris.
"We are also running a pretty strong frozen daiquiri program, with this changing regularly depending on the whims of Bar Manager Eddy Alder," said King. "This started off a bit tongue-in-cheek but has quickly become a much loved aspect of service. We love the idea of 'bad drinks made well' and that has become a bit of a guiding principle for us, which also keeps things fun and unpretentious for everyone involved — especially the customers," he said.