There's few bar managers out there that can match the esteem that The Rook's bar manager, Cristiano Beretta, is held in, and we put that down to him being more of a bartender's bar manager than a back of house wizard. Here, Beretta talks about growing up — quite literally, mind you — in a bar in Italy, the things he learned during his six years working at Melbourne's award-winning Black Pearl, and his approach to younger bartenders at The Rook.
Mum and Dad had a bar when I was conceived, so I just grew up in that kind of environment. We were living right above the bar that they were running. Mum was in the kitchen and behind the bar, Dad was sitting down pouring bottles and playing cards — 'entertaining', was the way he described it.
We were living right above, so obviously, when I was wasn't sleeping I was down in the bar. All the patrons that came in, it was a small town, and the neighbourhood used to come and drink in there. I learned how to play cards, and I remember being five years old and trying to make coffee.
I was always behind the bar, picking up glasses, from when I was seven or eight years old.
Professionally, I started when I was 21 when I was in London. I just wanted to get away from the little town where I was living. I got on the Eurorail with my little English dictionary and not much else — literally no English whatsoever — and I ended up in London.
I started working in a restaurant first, in a creperie, making crepes galette — I'm pretty good at it still. But the owner of the place was running a nightclub, so I started working there.
ADVERTISEMENT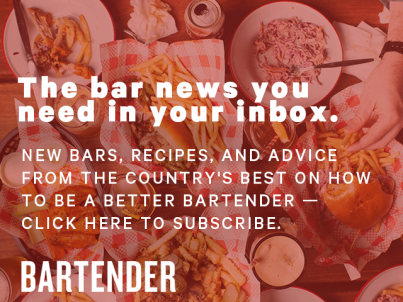 &nbsp
I ended up in Soho making drinks in nightclubs and pubs, but nothing too serious until I got Black Pearl. Black Pearl is what kickstarted my career.
I was working in this restaurant on Smith street — the first job when I moved to Melbourne. There was a kinky bar upstairs — once a month we used to host bondage parties, I'm kidding you not.
At the end of the night, when we wanted to go for a drink, myself and a friend of mine ventured on Brunswick street, and stumbled upon Black Pearl. I got in, sat down at the bar, and Tim Philips, Rob Sloan, and Chris Boersma — it was like 2am. I said, can I have an Old Fashioned? It was like last call.
Everyone who works at Black Pearl have been patrons before — the rest is history.
I worked at Black Pearl for six years. I've been in the industry now for 20 years, and I learnt more in six years than before the years I worked there.
I'd never worked in a really good cocktail bar before. The way I learned was to go to a cocktail bar, sit down in front of a better bartender, and just watch.
So jumping in at Black Pearl, you had Tim Philips who was young then but nonetheless really talented, and Rob Sloan, we'd just bounce ideas of each other. It was great.
In the end, Pearl has always been good because of the team. We always had great bartenders and stars, but it's always been about a bunch of guys working well together.
I needed a change of scenery. I really enjoy working at The Rook. As the bar manager, I'm in charge of service in general, creating cocktails, working with the team and training the team.
They're young, and it's great that they're really eager to learn. You're there to make them better, but it's also up to them to absorb everything and be better.
I teach them the way I work, because it works. It's my way or my way. Everything in the same place.
When you work in a place, you need to organise it in a way that you have as little movement as possible. We are a really busy, high volume cocktail bar — you need to speed up as much as you can. Our cocktails are a little bit elaborate in terms of the glassware we use, the garnishes, the concept.
Mis-en-place is everything. Less movement, more action.
If you're sharing a station with someone else, everything must be in the same place. I shouldn't have to look for the last bottle you used, I should be looking at the guest — that's why I'm really pedantic. When I go from one station to another, everything should be in the same place, and if it's not that's when I lose the plot, and they're always hearing about it!
I always advise my bartenders that if you want to take this job seriously, you need to put a lot of unpaid hours in. Go to seminars. If the guys from Attaboy are in town, go see them. If you have time, go see what they're doing. Then ask yourself why. Then come back to me and ask me why.
There's a lot to learn that's not in books. Books are theory. But in the end it's practice.
Be humble. Learn how to be hospitable, it's called hospitality for a reason.