Story by Sam Bygrave
Photography by Christopher Pearce
Presented by Joe Worthington, Della Hyde, Sydney
T
here's an old bartending adage that sugar is to bartenders what salt is to chefs. The idea being that if a cocktail is tasting a little flat, the addition of a little sugar will round out the drink, give it a bit more body, and a little lift in taste.
(Granted, this was more common in bars 15 years ago, and the sugar was applied more liberally — too liberally.)
Our taste for drinks has tended towards the dry side for some years now (unless you're drinking in America, where they're big on their God, Guns, and Gomme). Faced with a cocktail that's a little flat, you might prefer to reach for the other white powder, salt.
ADVERTISEMENT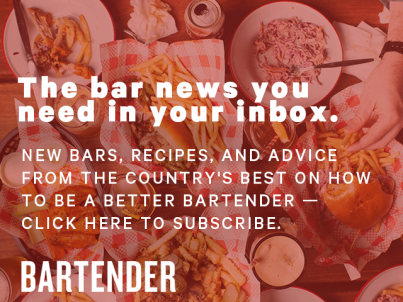 &nbsp
I know, salt in drinks is nothing new. Salt has been gracing the rim of the Margarita forever, and it's what keeps you coming for another Batanga long after you should have bailed.
But a little pinch of salt — a small amount, in the drink, and not on the rim — can see a drink's flavour go a long way.
It's referred to as sub-threshold salting by Dave Arnold, the author of Liquid Intelligence and owner of hi-tech Lower East Side bar, Booker & Dax, in New York.
He used to write a blog called Cooking Issues, in which he'd often go into the science behind drinks (that's the subject of his book, too). In one piece, he wrote:
"The secret ingredient in our cocktails isn't love, it's salt. A pinch of salt added to most cocktails brightens them up and rounds out the flavour tremendously. You don't need a lot. Add so little you don't even perceive saltiness – I call it 'sub-threshold salting'."
A tiny pinch of salt is enough to reduce bitterness in a drink, and gives other flavours more oomph.
If you're sceptical of this, you can try it out for yourself. Heston Blumenthal, the spectacled chef behind the science-driven Fat Duck restaurant, has written before about a useful experiment you can easily try:
"Pour some tonic water into two glasses. Add a pinch of salt to one and taste it. Now add a little more salt, and taste again – the tonic will have become sweeter. Carry on adding salt and tasting, and each time the tonic will be sweeter."
Here we've got a drink by Della Hyde's Joe Worthington. He uses a savoury gin with a hint of saltiness to it, along with a pinch of salt.
"The salt really helps to draw flavour across the palate," said Worthington.
And below Joe's drink, take a look at Ben Greenham's winning drink from last year's Disaronno Mixing Star. It uses a salt solution, which softens the sour notes in the drink and again, helps the flavours to pop.
Saltini
50ml of savoury gin — Joe uses West Wind's Broadside
10ml Lillet Blanc
Pinch of salt.
1 Sicilian green olive
2 drops celery bitters
Stir all ingredients over ice, strain into a chilled martini glass. Garnish with the Sicilian green olive.
Recipe by Joe Worthington, Della Hyde, Sydney.
La Renaissance Provisoire
45ml Disaronno
20ml La Goya Manzanilla Sherry
10ml lemon juice
1 sprig dill
2 Bar spoons Providore Margaret River Lemon Curd
2 drops Salt Water Tincture
Dash of orange blossom water
Shake and strain into a tankard filled with crushed ice. Garnish with a dehydrated lemon wheel and a sprig of dill.
Recipe by Ben Greenham, formerly of Enrique's School For To Bullfighting, Perth