I
n the March issue of Australian Bartender, we not only took a look at some
basics about gin you ought to know
, we also took a look at four modern classic gin cocktails: the London Calling, the Bramble, Salvatore Calabrese's Breakfast Martini, and the Gin Basil Smash.
Find out more about each below.
London Calling
40ml Beefeater 24
15ml lemon juice
15ml sugar syrup (1:1)
15ml fino sherry
2 dashes orange bitters
Shake all ingredients with ice, and strain. Garnish with grapefruit twist.
ADVERTISEMENT
&nbsp
The London Calling has become popular among off-duty bartenders, and we think that it's thanks in no small part to the inclusion of fino sherry in the mix. It's one of Tim Philips' faves, as he told us back in 2013: "The London Calling is the only drink to appear on every M&H London menu," he said. "The London Calling was created around 2002 by Chris Jepson for a Drinks International magazine competition. The drink comes alive when paired with the unfashionable dry sherry and bitters. Nutty, dry, fruity, this drink has it all."
Bramble
60ml Bombay
Sapphire Gin
30ml lemon juice
15ml sugar syrup
15ml De Kuyper Blackberry Liqueur
Shake the gin, lemon and sugar with ice and then strain into a old fashioend glass over crushed ice. Drizzle the blackberry liqueur on top. Garnish with a lemon slice and in season blackberries.
Adapated from a recipe by Dick Bradsell (UK).
Ask a bunch of bartenders for a handful of modern classic cocktails, and without fail they'll talk about the Bramble. Created by the late Dick Bradsell (whose hand also gave us the Espresso Martini), it's essentially a sour Gin Fix with the addition of creme de mure — and it's a drink you should fix yourself if you've not had the pleasure of one before.
The pedantic among you will note that we've garnished this with a cherry — if we could have found in-season blackberries, believe us, we would have used them.
Breakfast Martini
50ml Broker's Gin
15ml triple sec
15ml lemon juice
One spoon of orange marmalade
Dissolve marmalade in the gin; add remaining ingredients then shake with ice and fine strain into a chilled cocktail glass.
Adapted from a recipe by Salvatore Calabrese (UK).
Salvatore Calabrese is one of the giants of the UK and global cocktail scenes — check out a previous interview with the man himself here. He's also the creator of this drink, which, let's face it, if you start the day with a Breakfast Martini, you're going to have a good morning.
Gin Basil Smash
50ml Distillery Botanica Gin
8 basil leaves
25ml lemon juice
15ml sugar syrup
Gently muddle basil with lemon in a mixing glass. Add remaining ingredients, fill with ice and shake. Fine strain over ice in a rocks glass. Garnish with basil.
Adapted from a Joerg Meyer recipe.
Created by Joerg Meyer in 2008 from the Hamburg bar, Le Lion, this drink has spread around the world. It's classic in its dimensions, with the basil being the one thing updating the drink to the modern age. It comes from a period in time in which the kitchen was being thrown at drinks. But instead of throwing a nursery full of herbs into the recipe, the basil is a simple, elegant addition that adds to the refreshing nature of the drink. Oh, and from what we can find out online, the drink was originally made with red basil. We're happy with the green nonetheless.
ADVERTISEMENT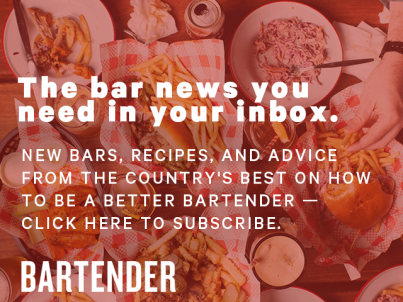 &nbsp