It's not often we get to write about world-first type bars, but we think we might to be on to one with PS40.
The new Sydney bar, on King Street in the CBD, is slated to open in the next week or two and features one piece of drinkmaking kit that you're unlikely to find anywhere else: a custom made bottling machine.
"This was made for us in Portland. I raise your rotovap with our Meehan," said Michael Chiem, co-owner.
Chiem and fellow owner Thor Bergquist will be making and bottling their own range of sodas on site at the bar.
"It's that coffee roaster, brewery, winery cellar door idea but with soda," said Chiem.
ADVERTISEMENT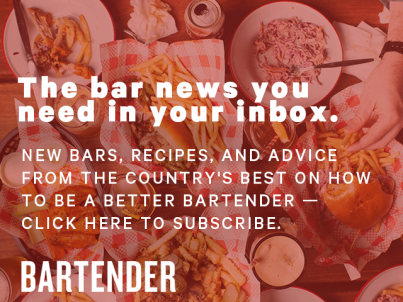 &nbsp
You'll enter via a small laneway off King street, and descend downstairs to a bar that is decked out in black and white tiling with pops of solid colour throughout. Behind the food prep area sits their Meehan bottling machine and a 500L tank which they'll use to carbonate their sodas.
"Compare that to any other sodastream you've ever used," Chiem said.
The idea is that during daywalker hours they'll run the bottling machine, which can process the 450L litres of soda in roughly two hours. Then at night someone will be prepping the next batch of soda to be bottled the following day, while Chiem and Bergquist work the bar.
Joining them behind the bar will Julius Yates, who worked with Chiem at The Lobo Plantation down the road.
The bar will feature eight taps, out of which their four core flavours and a seasonal soda will pour, said Chiem.
"People can come in here, sit at the bar, and have that interaction where [the sodas] are coming off the tap. Hopefully other bars and restaurants like the flavour of what we do and want to pour them in their establishments," Chiem said.
In terms of the cocktail list, they've elected to avoid a singular spirits focus in favour of a list driven by whatever tickles their fancy at the time.
"The main cocktail list is really just our inspiration and what we like in drinks," Bergquist told us.
One of the taps in the bar will be freed up for "collaborations with spirit companies or doing wine on tap or shandies," said Bergquist.
That collaborative approach is demonstrated in their smoked lemonade, which, along with a wattleseed cola, a blackstrap ginger and a bush tonic water, forms part of their four core flavours. The smoked lemonade is made with the help of LP's Quality Meats in Chippendale, Bergquist said.
"They're giving us smoked water that the use, a combination of ironbark and fruit wood. It gives these really nice, meaty, smokey flavours coming through the lemonade," he said.
PS40 is expected to open in the next two weeks, at 40 King Street Sydney.