Whiskey Daisy
1 ½ tsp castor sugar
10ml Lemon juice
5ml Lime juice
Dash of soda water
60ml whiskey (with an 'e')
15ml Yellow Chartreuse
Add sugar and juices to a mixing glass. Dissolve sugar with the skilful manipulation of a spoon, add your liquor, add ice and shake briskly. Strain into a fancy glass filled with cracked ice. Top with soda and garnish with fruits of the season.
Adapted from Harry Johnson's New and Improved Bartender's Manual 1882
T
he Daisy is a much maligned and misunderstood drink classification. Is it a Sour? Isn't it a Fix? Perhaps it's a Collins of sorts or a Fizz? Whatever the case may be, a Daisy can be made of gin, brandy, rum or whiskey, generally with lemon juice, a sweetening agent and a touch of fizz. David Wondrich is his wonderful book 
Imbibe!
 informs us that a recipe first appears in a 1876 supplement to Jerry Thomas's book where it is referred to as a sour that has been 'fizzed' and has the addition of a few dashes of orange cordial.
ADVERTISEMENT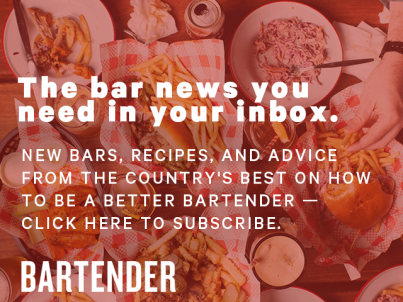 &nbsp
Over time all sorts of cordials, syrups and liqueurs became popular additions to a Daisy including orgeat, grenadine, maraschino and Harry Johnson's favourite, Yellow Chartreuse. The Daisy could even be served up which leads Wondrich to consider whether mentions of 'Tequila Daisies' (still made with orange cordial or liqueur) in the 1930s may have even been the early Margaritas.
By 1948 David Embury's Fine Art of Mixing Drinks would lead us to believe that orange cordial had disappeared altogether: "Most of the old FIX recipes call for pineapple syrup" comments Embury, "whereas the Daisies usually use raspberry syrup or grenadine." Embury also calls for a float of Yellow Chartreuse in his Daisies but interestingly omits soda altogether.
In regards to the recipe you'll find below we have adapted a formula from Harry Johnson's Bartenders' Manual with a little nod to Embury. You'll notice that this drink has quite the punch but Johnson has assured us that it's "very palatable and will please almost anyone."
Should you consider whipping one of these up, Embury has insisted on having the last word: "For please bear in mind the fact that these are drinks of the Mid-Victorian era. Put on your hoop skirt and bustle or wax your moustache, and sip them to the dreamy rhythm of a Viennese waltz."