The Ladies dominate the Queensland state final of The Perfect Blend. Ella Rhodes and Rinna Kato are through to the National Final.
On the 4th April the stage was set one last time at The Flying Cock in the bustling area of the Valley in Brisbane with The Blend members from across QLD filling the venue to cheer on the 7 bartending contenders (3 in the Apprentice and 4 in the Professional category), all vying for their chance to compete at the National final experience held in a location yet to be revealed at the end of May.
On competition day finalists were put through a few different challenges to test both the palate and ones' knowledge of the Beam Suntory portfolio. Replicating the other states, the finalists each had to partake in a product knowledge test and blind tasting, all which weighted toward their final score which would inevitably reveal the state winners.
As well as the gregarious and witty QLD Ambassador Matthew Barnett, the judging panel consisted of the ever so benevolent Gary Taft from The Exchange, with guest judges Edward Quatermass, who won Rookie of the year 2014 at the Australian Bar Awards and is the Venue Manager at Brisbane's Hotspot Maker, alongside another industry legend Perry Scott who runs O'hello and OCD.
After the judges deliberated, and scores were in, the QLD State finals winners were announced to the live audience that Ella Rhodes (Apprentice category) from The Gresham and Rinna Kato (Professional category) from Blackbird Bar and Grill as The Perfect Blend QLD state final winners.
ADVERTISEMENT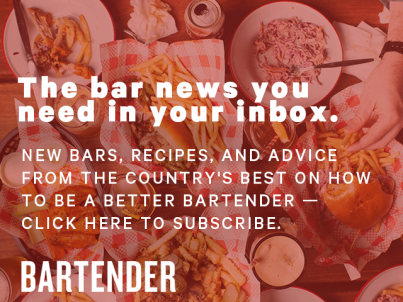 &nbsp
Ella and Rinna will now proceed to the National final held in a secret location at the end of May with the 8 other state finalist winners.
QLD FINALISTS (In no particular order)
APPRENTICE:
Samuel Geddes, Hoo Har Bar
Ella Rhodes, The Gresham
Elliot Pascoe, Cobbler
PROFESSIONAL:
Hugh Taylor, Maker
Rinna Kato, Black Bird Bar and Grill
Christopher Denman, Manhattan Line
Pez Collier, The APO
Mizu Seiche Sour by Ella Rhodes
METHOD: Shaken and double strained
GLASS: Stemless wine glass
GARNISH: Mandarin zest with natural oysters on the side- Dressed with a bar spoon of the cocktail.
INGREDIENTS
?Suntory Kakubin Whisky 50mls
Smoked salt and oyster shell syrup 20mls
Fresh passionfruit 10mls
Fresh Lemon juice 10mls
Yuzu Juice 5mls
The Conductor by Rinna Kato
METHOD: Shake and Double Strain (over cubed ice)
GLASSWARE: Double Old fashioned Glass
GARNISH: Fresh Shiso Leaf and Ginger slice
INGREDIENTS:
Hibiki Harmony 50ml
Homemade Japanese Style Falernum 25ml
Fresh lime Juice 25ml
Charred Bamboo infused Hakushu Distillers Reserve in a swing jigger 7.5ml
Want further details on the competition log on to www.the-blend.com.au or contact Hayley.morison@beamsuntory.com.