"We're going to totally revamp — everything you can see right now is going to change," Lewis Jaffrey tells us.
He's talking about the space on Oxford Street where, until just a week ago, Hello Sailor stood. Jaffrey, with fellow owner Jared Merlino, are set to open Big Poppa's in late June.
We sat down with Merlino — whom you may recall from such venues as The Lobo Plantation, and the forthcoming Kittyhawk — and Jaffrey, who has been a manager with the Swillhouse group for the last four years (you may recall him from The Baxter Inn), to ask them just what we should expect from the new restaurant and bar when it opens.
And given that both The Lobo Plantation and The Baxter Inn both featured in the nominations for international awards at Tales of the Cocktail's Spirited Awards last year, this an opening with a lot of promise.
The big picture
Big Poppa's is Jaffrey and Merlino's take on a casual Italian restaurant and cocktail bar, so expect a convivial, buzzy atmosphere — like the best Italian joints always have.
ADVERTISEMENT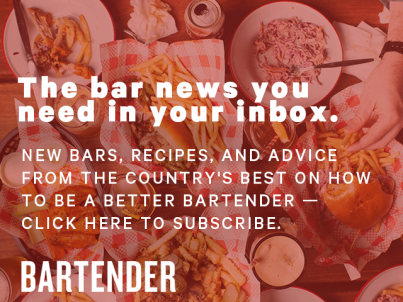 &nbsp
"Italian places always have that energy to them, don't they?" said Merlino. "You just feel welcome there, and it marries well with a big wine list which is something we've always wanted to do."
"We want it to be a casual, relaxed atmosphere where we don't take anything seriously except for the food and the drinks. The service is fun and relaxed, but competent and professional," said Jaffrey.
Restaurant service will take place on the ground floor, right where you walk in off Oxford Street; down the stairs, the bar will be in the same place as it stands now, but bigger and with a focus on cocktails and a cocktail lounge vibe.
Merlino has a pretty full slate of work right now: not only does he own the award-winning Sydney rum bar, The Lobo Plantation, he's also due to open Kittyhawk in the Sydney CBD in May. So whilst he'll be very much involved in what's happening at Big Poppa's, you'll be seeing a lot of Jaffrey.
"This is my baby, I'm going to be here 24-7," he said. "Making drinks, making sure the drinks are up to spec, the food upstairs is delicious.
"It's what we do. It's why we love it. I didn't own a bar to sit and drink in it," said Jaffrey. "I own a bar so I can entertain other people in it, be a host, and show them a good time and be involved in all the banter."
Oh, and did we mention the music? "We're going to be playing hip hop exclusively throughout the venue," said Jaffrey.
The ground level: everything will change
The first changes to note with Big Poppa's will be the focus on opening up the ground floor to the street.
"We're going to reinstate the bifold windows so they open out to Oxford Street," said Jaffrey. "A nice long, big communal table — this will probably be the only table we take bookings on. We're going to have big share dishes, [so] it's going to be the centrepiece."
There will be a dedicated space for restaurant service, and a small, six seater bar area on the ground floor — the idea being to have a buzzy atmosphere to draw attention in off the street.
"The idea is to create a sit-at bar up here so you're creating a vibe," said Merlino.
"If people want to sit and have food, they can have their starters at the bar top [for instance]. It's going to be real dynamic, which is important for this kind of space," Jaffrey said.
The kitchen will be closed off from view so the focus is on the room. "The only thing you're going to be able to see is this beautiful back bar," said Jaffrey of the two-man bar they're building from scratch.
The food — think Italian, think cheeses
Expect to see a one metre tall fridge stocked full of cheese.
"We're going to have 15 to 20, 30 cheeses on rotation constantly. The food is going to be heavily based around cheese and modern Italian type cuisine," said Jaffrey.
"The idea behind this space is we wanted to build something [where] we'd love to go eat and drink — cheese being the hero product here. Not just cheese boards; the idea is we do cheese by weight, so people can come in and custom make their own cheese boards, but incorporating those cheeses into elements of the food as well," said Merlino.
The menu is going to be on the small side to keep things casual, they said, with around 12 main dishes and three dishes rotating in and out — and a good hit of the cheese selection being incorporated into the menu.
"Not overly complicating, not trying to reinvent the wheel with the Italian food, we're just doing something delicious," Merlino explained.
The drinks — think Italian (again), think wine
You're eating Italian food, so the intimate ground floor bar is going to helping to lubricate that quest.
"The drinks upstairs will be real classic Italian, before- and after-dinner — so Americanos, Sgroppinos, Bellinis," said Jaffrey. "Real simple, classic Italian drinks that you would have to set yourself up for the meal."
And the space is going to be a temple to the duo's love of wine, with a wall of wine that will help block some of the noise expected to be coming from the downstairs lounge.
"We're going to build big wine store here, at the top of the stairs, so it's going to block some of the heavier sounds from downstairs," said Jaffrey. "And you're going to be able to see 200 bins worth of wine up here, so when you're in this space, it feels like a restaurant."
"We're big fans of wine, and we love rose wine as well," said Jaffrey. "So we're going to hero rose but not just one rose by the glass but several, more than one prosecco by the glass, champagne by the glass — so we're going to have options. It seems so obvious, but so many people don't seem to bother."
Down the stairs, it's the cocktail lounge
"It's very important for us that people realise we're not going to reopen Hello Sailor — we want to do something new," said Jaffrey. "So a big part of that was changing the feel for down here. We can't move the bar, we can't change too much of that, but we can change everything else."
Expect to see two arch-shaped grand banquettes on the left hand side when you descend the stairs. They've reoriented the seating to face the bar, and the surrounds are going to be "real plush, really comfy," according to Merlino.
One wall will see lovers seats and low tables, "so it's a real lounge sort of vibe."
The drastic change that they will be making is increasing the working space of the bar downstairs. By extending the bar out by 700mm, they'll be turning what is currently a two man bar into a four man bar. "It's a huge difference for speed of service and the kind of drinks we're going to be able to prepare, and how the bar is going to work," Jaffrey said.
And again, all the fridges are custom-built, and a lot of tweaking of the current layout is happening.
"We've custom made everything for this because it's the only way to make the space really sing. [It's] economical and ergonimcal — the bartenders are going to find it a real pleasure to work in because everything is going to be at hand where they need it.
"Those small little details can make a huge difference to speed of service and the kind of drinks we can produce."
The back bar will see eight tiers of shelves divided into two sets, meaning, well, there's quite a lot of stock going in.
"There's going to be a lot of gin and rum and whisky laying around," said Jaffrey. "The bar is 4.4 metres by eight tiers [of spirits]. That's almost the size of The Baxter Inn — we just love stocktaking!"
The key idea for downstairs is to have the cocktail lounge exist as an extension of what they're offering upstairs.
"The focus for us is that we want people to be able to get a good cocktail between 12 and three [in the morning], and here you can come at 2am, we can let you in, and you can come down here and have a Daiquiri and a cheese plate. That's why we jumped at the opportunity when it came up," said Merlino.
That's why getting the bar working efficiently has been a key priority for the outfit.
"At full tilt, we think we'll get seven behind [the bar], whereas at the moment it's really only built for two to three and it's hard on three," said Merlino.
In terms of what you can sip, think classic cocktails.
"Initially we're just going to launch with a solid menu that let's people understand that we're capable of making everything, and then within a few months we'll see the dynamic," said Jaffrey. "We can guesstimate as much as we like; when the customers come into the venue, they dictate what you have to do whether you like it or not, and we can feed in as much of our culture as we want, but realistically you have to tailor it to what they want."
Big Poppa's is due to open in late June at 96 Oxford St, Darlinghurst.