The art of making a drinks list work is one that's lost on your ordinary punter. When a menu works — be it a cocktail list, wine list, or food menu — the average customer in your bar isn't going to notice.
That's the way it should be. But a bad menu? They're not going to find their way around it, and you're already starting to lose the guest.
That's why when you see a menu as succinct and enticing as the one pager from Sydney's Dead Ringer, it pays to pay close attention to how it was put together.

It's a daily menu, so show it
It takes organisation to get a new menu out each day, and that's what they're doing at Dead Ringer, co-owner David Hobbs tells us. And they make a point of showing that they're doing it daily.
"[The] date and weather at the top reinforces the daily aspect, allows fast rotation of items from the kitchen as well as beer, wine and cocktails," he says. And because it's a daily thing, the menu is printed out on tracing paper and affixed to plywood (they look pretty damn good in person).
ADVERTISEMENT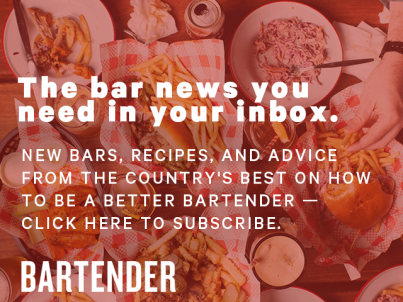 &nbsp
It's a one page wonder
We've got nothing against a drinks list that's the size of a telephone book (some of our favourites have been huge). But there's something to be said for neatly summarising what you do on one piece of paper; it shows you know what you're about.
Keeping the cocktails to a smallish list enforces a discipline on the bar: each drink needs to have its own purpose for being there. And take a look at the way the cocktails are listed on Dead Ringer's list: they move from lighter aperitif-style drinks to heavier, more spirit-focused options as they progress down the list. This lighter-to-heavier construct works for a few of reasons: one, it's a handy way to let people know what to expect in the glass. Two, because food is a central part of the Dead Ringer experience, it makes sense to start with a spritz of sorts pre-chow time, moving on to heavier drinks throughout the meal. Lastly, it helps you decide what's next — just pick the next drink and carry on. Navigation, solved.
It's simpple to navigate, but that takes some work
The one page menu makes things easy for the guests. Presumably, they've got better things to do — you know, like talk to one another and have good time — than to wade through sheets and sheets of paper, or as Hobbs put it, there's "no turning or rummaging to find what you want." Everything is there for you when you need it.
But to achieve this feat of neatness, you've got to think about the structure of the list, starting with the descriptions, and to have staff who know what they're doing.
"[We] removed all the try-hard adjectives," Hobbs tells us. "We think people are sick of this! We list the primary elements of a dish or drinks and be right on-hand to elaborate and answer questions."
There are economical benefits from this sort of list as well, Hobbs says, like "cross-selling, everyone sees everything; those just having wine today can look at the cocktails for next time, even if only in for a quick drink, [and] we get to show off our food menu."
And they've demystified the beer choices, by listing the style of beer first and foremost. "If we're going to have beers that may not be familiar, it's nice to give some context. [It] also shows the diversity of styles and discourages double-ups." Again, the beers are listed from lighter to heavier (so too the food and wine).
The cocktails are changed regularly, but the list is anchored
Just because you print menus daily doesn't mean you ought to throw in any old drink you feel like. Again, every drink serves a purpose.
"With the cocktails it's more about the structure again," Hobbs says. "The first drink has remained a low entry price light Spritz. We'd love it if everyone had this as they're first drink, especially if eating (We also have an off-menu house-aperitif of sorts, a Botrytis Semillon & Tonic that we push, when we can, for $5)."
Though the cocktails may change, the structure remains. It's like blues guitarist improvising — they can get wildly creative staying within a 12 bar blues structure. For Dead Ringer, the structure is based upon certain drinks.
"A Spritz, an Adonis twist, a wine-based Cobbler, a richer Fizz and a stirred digestif have remained the 'anchors' on the menu," Hobbs says.
Just because it's not on the menu, doesn't mean you can't get it
With cocktailing credentials as strong as Dead Ringer has, just because a drink isn't on the list doesn't mean you can't get it (we're pretty sure you'll have an excellent London Calling should you desire one).
And they've got a dedicated wine list, should you exhaust the by the glass options, of Australian and NZ wines (they've got about 40 bins at present, Hobbs says).