If you're the type of bartender who thinks deeply about drinks and the bar industry, this is an event for you.
Bartenders Alex Kratena and Simone Caporale have launched a non-profit summit, the P(OUR) Symposium. It's a collective formed in the belief "that by sharing knowledge, exploring new ideas and exchanging inspiration, it is possible to reimagine the way the industry works and ultimately create a brighter and more sustainable future."
It's big picture stuff, and here's why you should care: both Kratena and Caporale ran The Artesian, the number one bar in the world according to the annual World's 50 Best Bars list. The drinks at The Artesian pushed creative boundaries — get an example of one theirs, here.
They've got other bar industry creatives getting involved in the project, with Ryan Chetiyawardana of UK bars White Lyan and Dandelion a founding member, as well the USA's Jim Meehan (PDT), Germany's Joerg Meyer (you may recall his Gin Basil Smash from this story), Oslo's Monica Berg, and the UK's Xavier Padovani (of the Experimental Cocktail Club fame).
The collective will hold an annual symposium — the first one taking place in Paris on June 19 and 20 this year — "featuring a series of curated talks by some of the world's most influential bartenders, thinkers and drinks professionals."
ADVERTISEMENT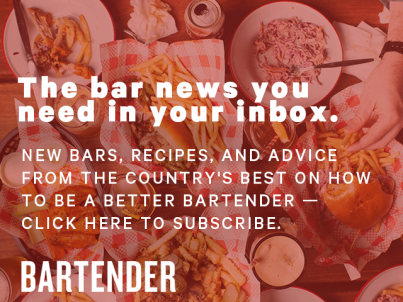 &nbsp
In this way, it is of a same vein as the MAD Symposium, a collective of chefs and food people brought together by Noma's Rene Redzepi, except that this is a bartender-led forum housing on the drinks industry.
"P(OUR) is definitely in the same spirit as MAD, but in its own entity as it reflects on issues critical to the drinks industry," Kratena told us.
"The bar stands right next to the kitchen, yet it is different and that's why we have taken our own lead."
That makes sense to us. To find out more, visit the P(OUR) website at pourdrink.org when it launches on May 11, or follow them on Instagram and Twitter.