Dave Kerr has been a busy guy — not only does he run his own events and drinks consultancy, The Tender, along with his wife and business partner Lois Kerr, he's also the owner of Melbourne bar The Beaufort.
Below, Kerr tells us about the way in which he's evolved The Beaufort's concept, and how he thinks about hospitality.
As told to Sam Bygrave
The Beaufort has evolved from a singular concept [of] a non-pretentious environment to serve really good drinks, which, at the time, we thought was kind of revolutionary but with the casualisation of dining it's not as cutting edge as it might once have been. And that evolved into us being a little more serious about food and bringing in Ike's Rack Shack which references an American smoked meat joint, which has now evolved to using Australiana as a barbecue theme as well.
I watched House of Cards, and basically ripped off Freddie's BBQ Joint from House of Cards. And I've always liked the idea of having the outdoors in, so we built this Louisiana-looking swamp shack with some astroturf and had a shack vibe.
ADVERTISEMENT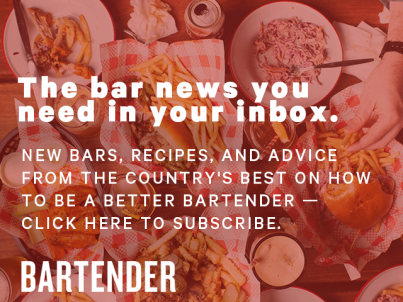 &nbsp
There's a guy who would probably be the pre-eminent Australian authority on smoked meat, a guy called Chris Terliker. Chris runs a place called Bluebonnet, he's probably lauded as the best guy at the dark art of smoking meat in Australia. He spent a lot of time at Franklin Barbecue, and he's sort of a Michelin chef turned barbecue guy. So we went to him for a consultation and he spent three months flipping our kitchen and putting together our initial menu, and from there we've just had guys who are really interested in smoking meat.
It's an evolving process as well. We're trying to move away from what is traditionally American, and redefine where that fits in in an Australian landscape. So different technique, but also different cuts, and move away from brisket and the standard stuff and see how we can get a bit weird and wild with what is typically more Australiana.
I wanted to have a bar; food was initially the adjunct. I guess now, where we're at, we've got a new bar manager in Paul Hammond, who spent a lot of time at East Rooms. He worked at Rosetta, I worked with him at Seamstress — an amazing bartender. He's from that old school Match Group training, it's a beautiful thing to watch, it's so consistent and systematic.
We tried to redefine what we do, and become a little fancier in the context of the fact that we turned into a restaurant, and now we need to turn back into a bar again. For a small part I lost sight of making drinks to the standard that I know I can make them, so that's been a driving force for me to go out, find a great bar manager, and really reinvigorate the list, the team, and make really good drinks.
I think the problem with Melbourne in the current climate is that people don't go out to just drink. You don't see that culture of like when you walk into The Baxter Inn [in Sydney] on a Monday and it's full. There's not a bar in Melbourne you walk into and it's like that. And everybody seems to either save up their drinking for the weekend, or they spend their disposable income on a great and really accessible food and restaurant market in Melbourne.
I have a note in my calendar to re-read Setting the Table by Danny Meyer once a year. That guy is a fucking genius. I think he may have wrote that book applying hospitality to big business, but just the stuff he comes up with is so profound.
My first real cocktail bar job was at Dragonfly in Edinburgh. I went back seven years later and went back there and the cocktail list was still the same and nothing had changed, and all the bad habits that I'd worked out of my system, all the bartenders still had. But it's kinda cool — Adi Ruiz had worked there, Lewis Jaffrey had worked there, it was a pretty cool little bar and a lot of pretty big names had been through there. And it's cool that it's kind of like a little time capsule.
Seamstress was huge. There was a lot of old school Milk & Honey and Match Group guys — David Hobbs, Paul Hammond, my wife [Lois Kerr] — all in that vein of bartending when it was super high output and incredibly consistent. And working under Adi Ruiz, I still claim him as one of my greatest mentors.
Then Press Club, I only worked there part time while I was studying, but to work in a hatted restaurant as a bartender to understand what it really takes to make a fine dining restaurant work, and the level of standard and the level of offering, was so far above anything I'd ever worked at before.
It's just a certain standard. You've got to come to work clean shaven, everything has to be perfect. Whereas now, I don't make people shave, but you've got to draw that borderline between employing hipster bartenders and that sense of professionalism. So the way they interact with customers, making sure that every single person is greeted and with eye contact, that's a policy that we have that we enforce.
Working for Behind Bars back in the day, I know I have a knack for training, Paul is fantastic at training bartenders — but you can't teach personality. So you've got to find guys who are the right fit and then you teach them to bartend properly.
People come back for bartenders, they come back for service. And reading about Dick Bradsell the other day, the fact that he had regulars since the first bar that he ever worked at — that's pretty telling. A lot of the success of Black Pearl is buoyed by that as well. You see [that] those guys know their locals and their regulars, know what they drink. It's just the spirit of that joint, that they all understand, is that you start to communicate with the customer beyond what the drinks is. That's an important point for differentiating drink service versus hospitality.