Story by Sam Bygrave
Photography by Christopher Pearce
Presented by Mitch Wilson, Henrietta Supper Club
There's no cocktail order that will piss one of your bartender mates off more than an order for a Ramos Gin Fizz in a busy bar. It just takes too long to make.
Well, it did. Nowadays, thanks to the spec gifted here by Mitch Wilson from Henrietta Supper Club in Sydney, you could conceivably get the drink served in a matter of seconds.
"The idea was to create a way of doing a Ramos, really, really quickly," said Wilson. "It's a cocktail which I'd like to bring in here, but we get too busy. But because we're a bartenders' bar, it'd be good to have a Ramos on."
ADVERTISEMENT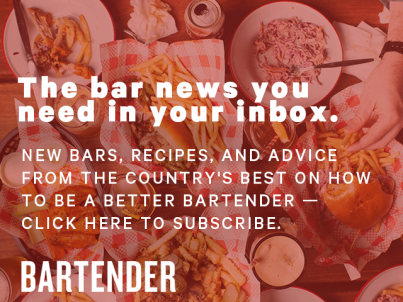 &nbsp
So, enterprising bartender that he is, Wilson sought to find another way.
"I spent a lot of time finding a way to get it to keep and to have it available on dispense, which is kind of tricky," he said.
"I spoke a bit with Thor Bergquist, and he had a theory a while ago about how to put a Ramos through a soda gun, and I told him what I was thinking. He gave me a few ideas on different chemicals and other things to keep it light and frothy."
Once he had the theory down, he went to work on getting the drink right.
"I just tinkered around with it, adjusting the measures until it worked," he said. And the result is a delicious twist on a Ramos.
They're using fresh lemon and lime juice, cream, and gin, much like you'd expect in a regular Ramos, but they've subbed in Yellow Chartreuse for most of the orange blossom water in the classic Ramos (there is still a bit in there). They've also used 2:1 sugar syrup with a little xanthan gum that keeps it thick and helps it to keep its silky texture after a few days.
"It kind of gets better as it goes on," said Wilson, "the flavours marry a bit more. Because we're using fresh lemon and lime, it merges in a little better — a Ramos after a couple of days tastes even better than one we've done fresh."
Soy lecithin is in the mix to help it froth up a little (it's the same stuff that keeps your chocolate milk nice and frothy after the carton has been open).
Wilson said that although it took a long time to develop, they can now whip the mix up in around 30 minutes, and with each growler providing between 15 and 16 serves, that's a lot of time saved during service — considering the original spec suggested a 12 minute shake per drink. Would you rather three hours to shake 15 drinks, or 15 drinks in under a minute? Take a look at the prep spec below.
The Holy Ramos
(Makes 15 serves)
400ml gin
200ml Yellow Chartreuse
400ml double cream
400ml 2:1 sugar syrup (with 1 bar spoon of xanthan gum mixed in)
2-3 vanilla beans
1 egg white
1 pinch soy lecithin
1 drop lactart acid
200ml fresh lemon juice
200ml fresh lime juice
20ml orange blossom water
Into a 640oz (18.9L) growler, add all ingredients. Charge with CO2. Refrigerate for 4 hours, then dispense at will. The mixture improves after three days, and makes 15 serves.
Recipe by Mitch Wilson, Henrietta Supper Club