The Indie Tasting is set to hit Brisbane on Sunday, 29th May. This inaugural event will be held at Lefty's Old Time Music Hall on Caxton Street. So get down there and check out over 25 exhibitors showcasing more than 100 craft spirits, with master distillers on hand and free seminars going deep into the world of independent spirits. Click here to book your tickets now.
Thanks to a boom in the local distilling industry, home-grown Aussie spirits are making a big showing at Indie Tasting Brisbane. You'll be able to taste great stuff from brands like Applewood Distillery, a tiny little operation from the Adelaide Hills that produces a gin and an aperitif called Okar. One of their neighbours in SA, the Adelaide Hills Distillery, another boutique operation, will be releasing The Italian Bitter Orange Aperitif, The Gunnery Spiced Rum and 78? Gin to the Brisbane market for the first time.
The Beenleigh Distillery, an artisan rum producer just out of Brisbane will be there along with the folks from Husk Distillers, who are located just an hour south of Brissie. These guys will have their Husk Rum and Ink Gin available for tasting.
Coming all the way from Perth, will be the folks from the Hippocampus Metropolitan Distillery showcasing their Hippocampus range of spirits including a vodka, a gin and a raspberry gin. From Melbourne city, a young Aussie bartender called Fred Siggins has stepped into the world of distilling and distributing spirits. He will be showcasing the Melbourne Moonshine, Pure Scot and Pisco People brands. In addition, the boys from Young Henry's in the Sydney suburb of Newtown (who have gained quite a reputation with the beer brewing skills) will be offering up samples of their Nightsweat Moonshine and Young Henry's Noble Cut Gin. Poor Toms Gin, another brand from the inner west of Sydney will also be making its debut in the Brisbane market.
ADVERTISEMENT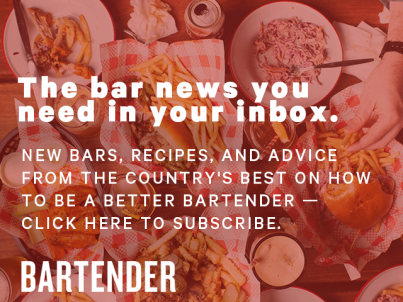 &nbsp
Other boutique Australian brands that will be on show include Four Pillars Gin, 666 Pure Tasmanian Vodka, Vantage Australian Spirit, The West Winds Gin, Cargo Cult Rum and Mr Black Slow Drip Coffee Liqueur and Whipper Snapper Distillery.
On the international front there will be brands in every spirit category, many of them making their debut in the Brisbane market. And these brands aren't your run-of-the-mill bottleshop offerings. Little known gins such as Gin Mare, Whitley Neill Gin, Ransom Distillery Dry Gin, Elephant Gin & Ferdinand's will be there as well as interesting whiskies such as Bastille Handcrafted French Whisky, Whistlepig Rye and Bib & Tucker Bourbon. Mezcals, a bartender favourite, are making a big showing with Del Maguey, Mezcal Gin and Extinto Mezcal, among others. Rums from all over the world will also be available for sampling such as Diplomatico, La Mauny, Rum Santa Teresa and Plantation Rum. And where would a cocktail be without the other products to mix with? We will have Villa Massa Limoncello, Mancino Vermouth, and mixers from Fever Tree and Capi, as well as Pimento Ginger Beer.
This is just a sample of what will be on show, so if you're interested in unearthing some new and interesting brands, the Indie Tasting will be the show for you.
"This showcase helps give small brands more visibility in today's competitive market," says Indie Tasting founder, David Spanton. "And Brisbane is the perfect city to host such an event with its booming small bar scene and passionate bartending professionals and consumers."
It promises to be a day of good times and great spirits, with live music happening and the Mermaid bar open for drinks, and with tickets only $20 (and on sale now — click here to get yours) you're best to secure yours early. Open to both consumers and trade, this event caters to all those with an interest in unique spirit brands.