Small bars, laneways and gentrification are nothing new in Australia's urban landscape (particularly with the loosening of small bar licensing laws around the nation). And Adelaide, our fifth most populous city, is no stranger to taking an area that's a bit of a dive, throwing in some tiny cocktail bars with bearded 'tenders, and creating a bonafide new hub of drinking and dining excellence.
And probably the latest area to undergo this transformation is Peel Street, in the Adelaide CBD. In the past couple of years (since 2013) a bunch of new venues have popped up in this street including Clever Little Tailor, Barbushka, Chihuahua Bar and the one you're reading about right now, Maybe Mae (which opened back in July 2014). Taking over a spot that formerly house Format (a creative collective that sold zines and housed gigs and exhibitions), Maybe Mae is a high volume cocktail bar, inspired by venues such as Dead Ringer in Sydney and White Lyan in London who "apply a holistic and sustainable approach to the bar environment" says Managing Partner, Ollie Margan. "We have a concise yet considered offering which combines premium spirits with premium local produce of which there is no shortage of in South Australia," he adds.
According to Margan, Peel Street was ripe for the picking "with lots of unused spaces in a central yet secluded area". Once some good bars started moving in "it attracted like-minded clientele, which there appears to be a mass of," he says.
Designed by Claire Kneebone (who's CV includes Press Food & Wine, Bank St Social and Proof Laneway Bars) the interior of the underground bar channels 30s and 40s Chicago with an art deco inspired feel – patterned timber over mirrored walls, dark green leathered booths, and carpeted floors. But as with all bars, there were some hiccoughs to overcome before the doors could open. According to Margan, the build took two years to complete "as there was a lot of construction to be done in order to build the subway style tunnel that we blasted through connecting Leigh and Peel Streets."
ADVERTISEMENT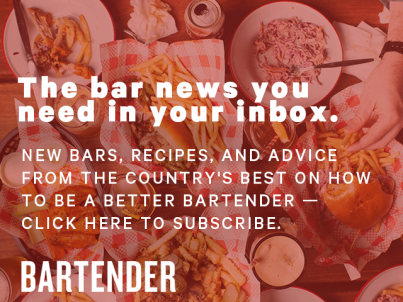 &nbsp
The venue Managing Director is Adelaide hospo heavyweight Simon Kadarchi, who's list of venues includes Osteria Oggi, Press Food and Wine and Proof Laneway Rooms, among others. He is joined by two managing partners: the aforementioned Ollie Margan, who at just 23 years of age brings with him a lifetime of hospitality experience from his family businesses in the Hunter Valley (Margan Wines/Margan Restaurant/The Landing Bar and Kitchen) as well as being in his fourth year of winemaking at Adelaide university; and Joseph Wilkinson the Managing Partner at Proof Laneway Rooms along with 10 years bartending at Adelaide venues Lotus Lounge, Maid and Magpie and Royal Oak.
Working in the engine room of the venue is the bar team, which was very much built from the ground up, inside the venue. A few industry heavyweights have passed through from time to time including Darren Leeney – Now at Dinner by Heston, formally Dandilyon), but the core team had little or no cocktail experience but had personality and passion. "I have limited experience myself, but I understand flavour, balance and customer service, which in this game is paramount," says Margan. "We have our own brand of drinks and service and it is untainted by old school bar culture, and it is honestly the reason why people are queuing up every weekend still after all this time, and I couldn't be any prouder of the passion displayed by my team.
And the reason the crowds are queuing up is apparently because of the rocking cocktails. They are the big drawcard at Maybe Mae. "Our demographic has become very cocktail-centric," says Margan. "At the moment, it accounts for about 70 per cent of our revenue."
The list features 16 strong seasonal cocktails on high rotation with a produce focus. "Being so close to the Adelaide Markets, our access to premium produce and supplies is incredible; this allows us to have a completely in house approach to ingredients," says Margan. "No non-alcoholic ingredients (save mixers) are purchased. Our drinks are simple yet precise; with an array of lighter alcohol carbonated spritz style drinks and some more spiritous stirred and straight-up offerings. Our focus is on approachability, with the goal of disarming everyone who walks into our underground time capsule.
"The list can read complex and out there at times, with ingredients such as watermelon skin, split milk, vinegar etc. but the team are aiming for flavour profiles are as simple or as complex as the imbiber would like to see."
Glassware and ice are a top priority also with a service freezer, hoshizaki cubed ice, bream pebble ice and large rocks available.
There are also four beer taps with a strong focus on Australian craft beers, 2 wine taps with a white and red specifically made for Maybe Mae by Pikes (Clare Valley), plus an additional four white and four red rotational by the glass.
And if you're hungry, there is no food offering but all guest receive some Nuts and Bolts, a complementary bar snack of nutri grain and peanuts cooked in curry powder, butter and french onion soup mix. The word on the street is that its incredibly addictive.