Up To Date
30ml Auchentoshan American Oak
30ml dry sherry
5ml Grand Marnier
2 dashes of aromatic bitters
Stir down ingredients over ice; strain into a chilled cocktail glass. Garnish with lemon twist.
Story by Sam Bygrave
Photography by Christopher Pearce
Printed by Jeremy Shipley, Solotel, The Clock Hotel
In association with Auchentoshan American Oak
Some matches are meant to be. Gin and Tonic. Abbot and Costello. Wallace and Gromit. Whiskey and fresh apple (thanks, Swillhouse).
ADVERTISEMENT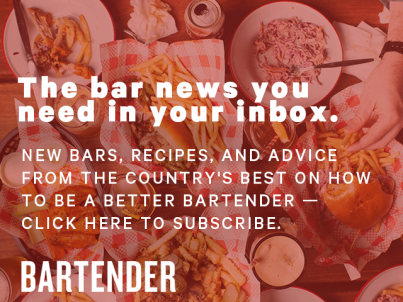 &nbsp
These are pairings that these days are commonplace. But what if you want to go for something a little less obvious, without getting all molecular with it? The cocktail books of old are a good place to start, and this month we dived into Hugo Ensslin's 1916 book, Recipes for Mixed Drinks.
Most famous for the Aviation recipe, you'll also find a whiskey and sherry number called the Up To Date Cocktail.
To begin with, whiskey and sherry may not be a combination that immediately springs to mind. But if you think about the flavours involved — and the way in which a lot of single malt whisky is made — then the combo starts to make plenty of sense.
Much of single malt production employs ex-sherry casks for the maturation and finishing of the spirit, so it makes sense that whisky and sherry play well together. The same thinking is what goes into the Chancellor recipe over the page: former port barrels have been used for a while now to add a distinct finish to some single malt whiskies.
For the Up To Date, we've used the new to market Auchentoshan American Oak here, but the Auchentoshan Three Wood sees time in ex-bourbon casks before further finishing in ex-oloroso sherry and ex-pedro ximenez sherry casks — offering, again, further points of departure for your mixing.

Notes on ingredients
Auchentoshan American Oak is triple distilled and matured 100% in ex-bourbon casks.
Auchentoshan American Oak has aromas of vanilla, coconut and citrus on the nose, which leads through to vanilla cream, coconut and white peach characters on the palate before finishing with a hint of spice and sugared grapefruit on the finish.
Auchentoshan is the only triple distilled single malt in Scotland, which means there are fewer impurities in the new make spirit allowing strong citrus and fruit characters to shine.