Ask a punter if they like absinthe, and you'll likely be met with hesitation. Absinthe in the mind of the public is yet to shed its illicit image of hallucinations and stupor, thanks to teetotallers' efforts around the turn of the 1900s.
You, as an astute and worldly bartender, will know that absinthe doesn't cause hallucinations and is in fact, rather legal even though, as Charles H. Baker once wrote, if you drink enough of it "it does nibble the keen edge off the brain until a man becomes a sorry sort of thing; aimless, listless, and generally — shockingly — lacking."
It can still be a challenging spirit to work with, employed most often in dashes here and there: a little in your Corpse Reviver #2, perhaps, or as an accent in McKinley's Delight (aka Remember the Maine).
But why should its use be confined to dashes? We've crawled through the archives — prior to an absinthe or two, of course — to give you three ways with absinthe.
ADVERTISEMENT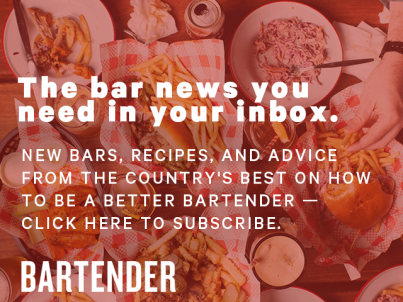 &nbsp
Absinthe & Water
45ml traditional absinthe
180ml chilled water
1 sugar cube (or more to taste)
The classic absinthe serve. This is the way many would have taken their absinthe in the bohemian Paris of Toulouse-Lautrec and in the street cafes of Montmartre, and much like Hemingway would have taken it on the streets of Spain (though, Papa, ever the diabetic, would have had his sans sugar). Simply place a sugar cube atop an absinthe spoon and drip cold water — and it must be cold — onto the cube to dissolve.
Absinthe Frappe
50ml Emile Pernot Absinthe Bourgeois
5ml 1883 Pure Cane Sugar Syrup
5ml pastis
30ml water
Shake all ingredients with ice. Fill a tall glass with crushed ice, and strain mixture into glass. Garnish with a sprig of mint.
Adapted from a recipe in The Mixicologist, 1895
We're big fans of this drink at Bartender. It's simply the most refreshing way to down your absinthe — those flavours of liquorice and herbal wormwood combine with the menthol-like quality of aniseed, and is chilled even further by crushed ice. It's positively grown up way to drink — a mark of class, if you will.
Suissesse
50ml La Fee Blanche
15ml sugar syrup
20ml lemon juice
Half an egg white
A dash of soda water
Shake all ingredients without ice, then again with ice. Strain into a chilled coupe. Garnish with grated nutmeg on top.
Adapted from Frank Meier's The Artistry of Mixing Drinks, 1936
A variation on this recipe, albeit called a Swiss S. instead of Suissesse, had earlier appeared in C. F. Lawlor's The Mixicologist. And in that book, you can see that it is simply an Absinthe Frappe with the addition of egg white, and served up. Lawlor omits the citrus, which makes for an altogether thinner drink. You might like to switch in white crème de menthe and some orgeat for the sugar syrup in this recipe, too: that's how they do it down in New Orleans.
Absintheminded — 3 absinthes to try
Emile Pernot Absinthe Bourgeois
Weighing in at an ABV of 55%, Absinthe Bourgeois is an approachable absinthe for those not well acquainted with the category. It has a sweet, fresh character, with strong notes of anise.
Cerbaco
Emile Pernot Absinthe Authentique
Emile Pernot has produced absinthe since 1890. Made with pot stills with unchanged recipes this is a fresh, wormwood-forward absinthe at 65 per cent ABV.
Cerbaco
La Fee Absinthe Blanche Supérieure
Based on an authetic 19th century recipe, and distilled with grand wormwood, this clear absinthe has a stronger fennel character with less of an anise focus.
Think Spirits