One of the best parts about the gig we have here at Australian Bartender is getting to know the guys and girls behind the stick, working bars right around the country.
Better yet, every now and then we get the chance to meet up and coming bartenders, who, while still green in the game and new to the world of bars, give as much of a damn about it as long-term lifers in the industry. That's true of Tynan Sidhu, who's working as the supervisor in The Whisky Room at The Clock in Surry Hills. He's a humble guy, with a passion for whisky, and has worked his way up on to be supervising the bar from working on the floor just 18 months ago. He spoke to Sam Bygrave about whisky, what they do at The Whisky Room, and about humility.
As told to Sam Bygrave
I used to work in a restaurant and bailed on that and came here. And there was a guy called Dan Molnar who was here, and I was bugging him about working on the bar. Then I started reading and reading about whisky, basically.
ADVERTISEMENT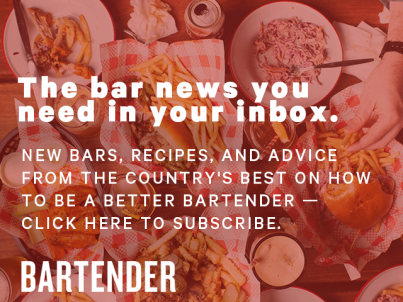 &nbsp
I read every single day about whisky — it's taken over my life. Whisky is such an interesting thing, it's such a dynamic thing. There's so many variations, it's just crazy.
The first thing I did when I knew I was coming in here was I learnt what whisky was, and how it's made. From there, and once you understand what the maturation processes are like, you can guess what a lot of them will taste like from the different casks [they use].
There are some I know more about than others, it's just passion — when you're reading about it and you care about it, it just sticks in your head. So I know quite a fair bit about each of those bottles [on the back bar].
It's been about 18 months — I don't even know, I'd have to check, time flies.
I used to work as a waiter, bartending is my thing. I've dedicated my life to this — I want to smash it.
I was working at a really shitty restaurant in Darling Harbour with a horrible boss — he was a horrible man. I bailed and I came here — you can have a nice boss. I've had really good bosses here, like Dominic Winten who's the licensee here, he's really supportive, and people like Jeremy Shipley as well — I owe them a lot.
We're in a pub but we want to bring that small bar feeling here, especially with our focus on service — that's something I'm really passionate about.
I've been to a lot of bars where people treat you like shit, and it just makes you not want to go there again. There's too many arrogant bartenders out there — they should feel really bad about themselves the way they treat people.
It's hospitality. It's about being humble. I haven't been bartending for half as long as most of the other guys around in the industry and I have to accept that. So when someone comes in and asks me for a cocktail, and I don't know what's in it, I'll ask them. I won't pretend. I won't fuck around. We want everyone leaving here to be happy they came and to think we're a good lot of people.