Sydney's Mike Enright, it's fair to say, has a bit of a thing for gin: "you can do so much with it. The boundaries are endless, really," he says.
And you can see Enright's enthusiasm for the spirit in his burgeoning bar empire. It began with The Barber Shop opening on York Street in the Sydney CBD in 2013, and grew anew with the opening of his gin-focused popup bar, Gin & It, in Sydney's new Barangaroo precinct. Having recently opened a Barangaroo location of The Barber Shop — with a greater emphasis on the barber side of the business, and with World Gin Day happening on June 11th, we thought we'd catch up with the man who has done so much for the gin category in Sydney and take a look at each location. He also gives us three drinks that we think you should give a go when World Gin Day arrives on June 11th.
The Barber Shop York St
The Barber Shop will celebrate its third birthday this September, and in those years it has entrenched itself in the Sydney bar scene — a racked up a number of nominations in Bartender Magazine Australian Bar Awards in the process, including wins for Bar Operator of the Year and Bar Manager of the Year.
ADVERTISEMENT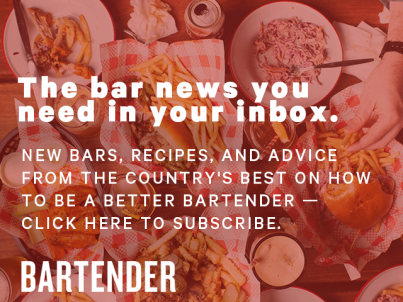 &nbsp
The Barber Shop gets its name for the barbers that sits at the front of the bar on York Street. Punters move past the barbers working away and into the bar with a cornucopia of gins on offer.
It's a category that Enright clearly loves.
"That English tradition, the history of it — I love the history of gin," he says. "The more I delve into it the more I find out about it; it's got its own character in that sort of sense."
The Bombay Distillery

We're showing you two standard-bearer gins for you to try this World Gin Day: Bombay Sapphire, and Star of Bombay. They both hail from the Bombay Distillery at Laverstoke Mill in England. Opened in late 2014, the distillery was constructed with sustainability top of mind: it won an outstanding design award for its construction for this very reason, with the ash produced from its biomass boiler being used to fertilise the soil on local farms, and low carbon energy provided by a photovoltaic array and hydro-electric turbine which has given them carbon savings of 38 per cent. And should you visit the distillery in the English countryside, you can expect to find wildlife of all kinds — otters, kingfishers, herons, ducks, swans and more have had their habitats preserved. The artistic, striking greenhouses designed by Thomas Heatherwick are worth a visit in and of themselves.
One of the chief reasons that Enright, whose cocktailing experience goes back to his Hemmesphere days in 2001, is its role in classic cocktails.
"It's a pretty versatile spirit, you can do so much with it," he says. "The boundaries are endless, really. In classic cocktails, it's played such a major part in the creation of so many of them — the Martini, some of the best classics in the world were created with gin."
And it was The Barber Shop that gave flight to Enright's gin fancy.
"What I wanted with The Barber Shop and Gin & It was to bring the category to life, and see what people were interested in — the response has been really positive and people were really keen to learn about it," he says.
Gin & It
Late last year Enright opened Gin & It at Sydney's latest food and drink destination of the new Barangaroo precinct. The idea? Take a small popup bar, fill it with gins from across the world, and pour flavoursome classic style gin cocktails. That necessitated a bottled cocktail program — the small space has some 200 gins on the back bar, so space is at a minimum — and it's paid off; a new cocktail list for winter has just been installed.
The space has given Enright and his team, lead by 2015 Bar Manager of the Year Petr Dvoracek, the impetus to create and refine over the months, all the while pushing gin as the focus.
Their winter menu launched last month, he says. "Some new cocktails, a hot gin punch kind of thing — we're going through all the gins and giving them their own garnish."
And their love of gin has led Enright to recreate the bitter lemon mixer found more often in his homeland of England.
"We're making a bitter lemon. Do you remember BritVic — it's got a slight blue, aqua colour to it.
We're going to carbonate, flavour it and bottle it to give you another option — Gin & Bitter Lemon."
The Gin & It moniker comes from the classic cocktail of the same name, says Enright: "In the 1800's, when a lot of Italians migrated to Britain they brought their barrels of sweet vermouth. With all the dodgy gin that was made back then, they didn't want to use up their supply of sweet vermouth so they lengthened it with gin to make it last longer. It also disguised the taste of gin, because they weren't that into gin. That's how it became Gin & It — Gin and Italian."
(Give the recipe here a go with the much finer Bombay Sapphire).
The popup is slated to run until August — our tip is that it's not the last you'll have heard of Enright's Gin & It brand.
Star of Bombay
Star of Bombay is a slow distilled single batch gin born from the Bombay Sapphire recipe with two extra botanicals — ambrette seed from Ecuador and bergamot orange peel from Calabria — and rated 4.5 stars by Simon Difford. At 47.5%, it's best to enjoy one part of Star of Bombay to one part of tonic.
Bacardi-Martini

Bombay Sapphire
It can't be forgotten that Bombay Sapphire led the renaissance of gin back in the 1980's by launching in a blue bottle with a unique vapour infusion process.  Credit goes to this brand for putting gin back on the map with a consistently round and balanced flavour profile. Through Project Botanicals, the brand continues to educate consumers on gin, how it is made, and the vast opportunities to pair with food.
Bacardi-Martini
The Barber Shop Barangaroo
Enright's latest endeavour is to open an outpost of The Barber Shop, one which emphasises the role of the barbers. It's a classically-designed space, with perhaps the country's smallest bar (it occupies on small corner of the room), and offers people the chance to pop in for a cut, a shave, and some classic cocktails bottled and prepared by his team, like the Salted Martini presented below.
"All the cocktails are bottled — [take a] glass out of the freezer, our the bottle in, garnish, done," Enright says.
The drinks are just one strategy to offer customers an escape from the stresses of living in Sydney — he's providing a space for them to take time out and do something for themselves.
"We've put USB cords everywhere, so wherever you are you can charge your phone, from wherever you're sat," he says, so you have a place "if you wanted to get out of the office, do some emails, maybe get your hair cut."
That's a swell idea, if you ask us.
Here's three suggestions for cocktails to celebrate World Gin Day
1. Gin & It
40ml Bombay Sapphire
45ml Martini Rosso
2 drops of orange bitters
Stir down ingredients over ice and strain over good ice in a rocks glass. Garnish with an orange twist.
Adapted from a recipe by Gin & It.
2. Salted Martini
60ml Star of Bombay
10ml dry vermouth
5ml Olive juice (Gordal olives mixed with salt)
Pinch Murray River Sea salt
Stir down all ingredients and strain into a chilled martini glass. Garnish with an olive on a metal pick.
Adapted from a recipe by The Barber Shop.
3. Star of Bombay & Bitter Lemon
1 part Star of Bombay
1 part Bitter Lemon
Pour ingredients over ice. Garnish with an orange slice.