The Gresham. You may have heard of this Brisbane bar — it did win the title of Bar of the Year last year. This month bar manager and industry veteran Ryan Lane tells us a little about how he sees the game.
Obviously we've got so much whisky, and such a demographic for it, but keeping an exciting back bar where I've run out of room, and rotating through new stuff to keep punters happy is always a good thing. We're up to about 350. At the same time, we never really wanted to be a whisky bar, we've always wanted to be a bar for everyone. Yes, predominantly we have whisky but we also stock great wines by the glass, we also support a lot of local craft beer as well given that the owners gave me the blessing of not contracting our taps.
I started by pulling pints on St Paddy's Day at an Irish pub. Dooley's it was called, it's now The Flying Cock. Cheekily, I didn't realise that they were calling me in to do my first ever bar shift on St Paddy's Day — and the Paddy's Day march in Brisbane used to end at that pub. so the first four hours of my shift was half pouring about 500 pints of Guinness.
I ended up at a nightclub, and was given the reigns to the little cocktail list they had there. It was a couple of years after The Bowery had opened, and I'd never gone to what I thought were fancy bars. Working in a pub, [that] was too fancy for me — I'd rather have my pint of Guinness after work than go out and try to act all fancy.
ADVERTISEMENT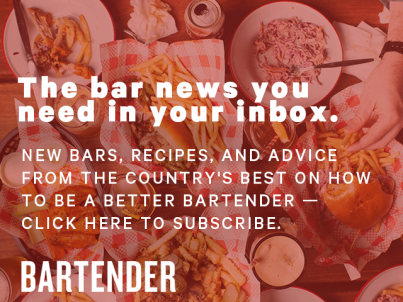 &nbsp
With the cocktails at the nightclub, I started gaining a little bit of interest in it and then was led to The Bowery, that I thought I'd never go to — and I fell in love with the place and what they did.
I'd never seen a back bar like The Bowery before. It's just the dominant thing when you walk in, you see this massive wall of spirits and 90 per cent of them I'd never seen before.
I think it was 2006 or 2007, I'd left Fringe Bar, and went up to The Bowery for a celebratory beer and a whisky, and Shay Leighton actually came up to me and said, "be here Friday night in black and whites at seven o'clock." I didn't actually get a say in it. Thankfully Mat [Hewitt] took me under his wing at The Bowery and trained me up and through the usual rotation of hospitality, I ended up taking over the place.
I did two years down in Melbourne. When I moved to Melbourne, like every Brisbane bartender does the pilgrimage to the Mecca of the Australian hospitality scene, I kind of noticed that while I thought the Brisbane scene was stale, what we were doing was actually on par, if not better, than what Melbourne was doing.
It really made me feel what I call, 'statriotic'. All the veteran bartenders of Brisbane upped and left for Melbourne, and there was no one really waving the flag for Queensland — a lot of the younger guys didn't have many mentors.
The whole idea with hospitality is to keep training people — you need that progression. Once you hit 40, it's pretty tough to keep bartending and if you haven't trained anyone, the whole scene takes another step backwards.
We've got people like Pete [Hollands, who made the Top 3 Most Promising in Bacardi Legacy], who's been bartending for three years and is doing great; we've got Ella [Rhodes, who is the national final for The Perfect Blend]; Thalita [Alves, who won a number of comps last year] who came out of here as well. We've got this nice mix of guys who have done it all before and young up and comers. The older guys are like, you know what? You're making me feel like I really want to do this again, and the younger guys are like, I want to do what you did.
It's a little hive-mind. Competitions come up, and we all sit down, we all talk through everyone's ideas and where we think they can either improve or change. Thali was so incredible with presentations when it came to cocktail comps, and even though she's in Sydney now they all still talk when there's a comp — they've become this little family now, which you expect in small bars.
It gives the bartender recognition for their hard work. If there were no comps and all they were doing was pouring drinks night after night, it becomes rather monotonous. These comps are something different for them to try that takes them out of the norm. The experience these guys gain, not just the comp, but the life experience — they get to meet other bartenders form other states and extend that family of hospitality.
Trying to go through the ranks too quick, these days young bartenders want to go straight to that high end bar and be a cocktail bartender. The experience that I've gained, and some of the situations that I've been in, the different styles of venues that I've been in, I think has contributed to the success of the bars that I've worked in. Pouring pints in my first pub was serving the same 20 old boys that would come in of the afternoon, and you knew that Johnno wanted his pot of XXXX Gold with no head, the form guide next to it open to page three because he's looking at the Caulfield races this week, whereas some other guy comes in and he likes his Coronas with two limes instead of one — that's the service stuff that I've learned from pubs, and genuine service. Not just hello sir, ma'am, how are you this evening — it was really personal. People became mates, which is something we've really ingrained into The Gresham style of service: as well. We like to tell people we're just a fancy pub — with a lot of whisky.