The top ten finalists for this year's Spirited Awards, to be held on the last day of Tales of the Cocktail this year, are in — and it's been a great day for Australia.
Venerable Australian institutions The Baxter Inn and Black Pearl have been given a nod for Best International Bar Team.
The Lobo Plantation has received another nod this year for Best International High Volume Cocktail Bar, and is joined in that category by Eau de Vie Melbourne.
Sydney bar Bulletin Place — which has won the Bartender Magazine Australian Bar Awards title of Cocktail Bar of the Year three years running — is nominated for Best International Cocktail Bar, while their sister venue, Dead Ringer, is up for Best New International Cocktail Bar.
The Baxter Inn also received a nod for World's Best Spirits Selection.
ADVERTISEMENT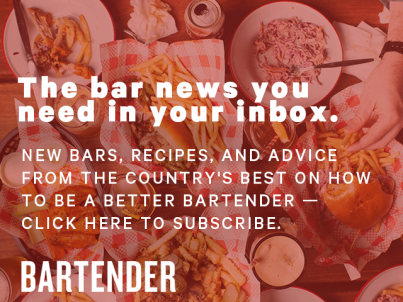 &nbsp
Jason Crawley has been honoured again, with a nomination in the Best Bar Mentor category, whilst Charles Ainsbury, of Sydney bar This Must Be The Place, has scored himself a nomination for International Bartender of the Year. Expat Australian bartender Iain Griffiths is also up for International Bartender of the Year thanks to his work with White Lyan and Dandelyan.
Lastly, we're honoured to say that for the fourth year in a row, Australian Bartender has been listed among the top ten in the category of Best Cocktail & Spirits Publication — the only such publication from the southern hemisphere to do so.
Take a look at the full list below.
American Categories
Best American Bar Team
ABV (San Francisco)
Anvil Bar & Refuge (Houston)
Attaboy (New York City)
The Dead Rabbit (New York City)
Drink (Boston)
Harvard & Stone (Los Angeles)
Herbs & Rye (Las Vegas)
Holiday Cocktail Lounge (New York City)
The NoMad (New York City)
Williams & Graham (Denver)
Best American Cocktail Bar
ABV (San Francisco)
The Aviary (Chicago)
canon: whiskey and bitters emporium (Seattle)
Clover Club (Brooklyn)
The Dead Rabbit (New York City)
The NoMad (New York City)
Prizefighter (Emeryville)
The Normandie Club (Los Angeles)
Smuggler's Cove (San Francisco)
Trick Dog (San Francisco)
American Bartender of the Year
Julio Cabrera of The Regent Cocktail Club (Miami)
Marcovaldo Dionysos of Smuggler's Cove (San Francisco)
Chris Hannah of French 75 (New Orleans)
Bobby Heugel of Anvil Bar & Refuge (Houston)
Giuseppe González of Suffolk Arms (New York City)
John Lermayer of Sweet Liberty (Miami Beach)
Jeffrey Morgenthaler of Clyde Common (Portland)
Yael Vengroff of The Spare Room (Los Angeles)
Pamela Wiznitzer of Seamstress (New York City)
Naren Young of Dante (New York)
Best American High Volume Cocktail Bar
Bitter & Twisted Cocktail Parlour (Phoenix)
The Esquire Tavern (San Antonio)
Flatiron Lounge (New York City)
Harvard & Stone (Los Angeles)
Herbs & Rye (Las Vegas)
Honeycut (Los Angeles)
Melrose Umbrella Co. (Los Angeles)
No. 308 (Nashville)
Pegu Club (New York City)
Polite Provisions (San Diego)
Best American Brand Ambassador
Colin Asare-appiah (Bacardi)
Tim Cooper (The 86 Co.)
Daniel de Oliveira (Leblon)
Gardner Dunn (Beam Suntory)
Anne Louise-Marquis (Marnier Lapostolle)
Bernie Lubbers (Heaven Hill Distilleries)
Ewan Morgan (Whisky at Diageo)
Robin Nance (Auchentoshan)
Chris Patino (Pernod Ricard)
Ria Soler (Chartreuse)
Best American Hotel Bar
Bound by Salvatore at The Cromwell (Las Vegas)
The Elephant Bar at The NoMad (New York City)
The Hawthorne at the Commonwealth Hotel (Boston)
Midnight Rambler at The Joule Dallas (Dallas)
Pepe le Moko at the Ace Hotel Portland (Portland)
Proof on Main at 21c Museum Hotel Louisville (Louisville)
Sable Kitchen & Bar at Hotel Palomar (Chicago)
The Spare Room at The Hollywood Roosevelt (Los Angeles)
The Upstairs Bar at the Ace Hotel Los Angeles (Los Angeles)
Vesper Bar at The Cosmopolitan Las Vegas (Las Vegas)
Best American Restaurant Bar
Cane & Table (New Orleans)
Eat the Rich (Washington, DC)
The Eveleigh (Los Angeles)
Gramercy Tavern (New York City)
No. 9 Park (Boston)
nopa (San Francisco)
One Flew South (Atlanta)
Saxon + Parole (New York City)
Scopa Italian Roots (Venice)
The Rieger (Kansas City)
Best New American Cocktail Bar
Bar Goto (New York City)
Dante (New York City)
Forgery (San Francisco)
Leyenda (Brooklyn)
Old Lightning (Marina Del Rey)
Suffolk Arms (New York City)
Sweet Liberty (Miami Beach)
The Treasury (San Francisco)
The Walker Inn (Los Angeles)
Whitechapel (San Francisco)
International Categories
Best International Bar Team
American Bar at the Savoy (London, United Kingdom)
The Baxter Inn (Sydney, Australia)
Black Pearl (Melbourne, Australia)
Callooh Callay (London, United Kingdom)
Connaught Bar (London, United Kingdom)
Dandelyan (London, United Kingdom)
Floridita (Havana, Cuba)
Limantour (Mexico City, Mexico)
Little Red Door (Paris, France)
White Lyan (London, United Kingdom)
Best International Brand Ambassador
Ian Burrell (Rum Ambassador)
Dean Callan (Monkey Shoulder)
Allison Dedianko (Belvedere)
Joe McCanta (Grey Goose)
Raj Nagra (Bombay Gins)
George Nemec (Becherovka)
Shervene Shahbazkhani (Bacardi)
Tim Stones (Beefeater Gin)
Camille Vidal (St-Germain)
Max Warner (Chivas)
International Bartender of the Year
Charles Ainsbury (Sydney, Australia)
Monica Berg of HIMKOK (Oslo, Norway)
Daniele Dalla Pola (Bologna, Italy)
Marcis Dzelzainis of Sager + Wilde Paradise Row (London, United Kingdom)
Chris Lowder of Charles H. (Seoul, South Korea)
Iain Griffiths of White Lyan and Dandelyan (London, United Kingdom)
Zdenek Kastanek of 28 Hong Kong Street (Singapore)
Tess Posthumus of Door 74 (Amsterdam, Netherlands)
Carina Soto Velásquez of Candelaria (Paris, France)
Hidetsugu Ueno of Bar High Five (Tokyo, Japan)
Best International Cocktail Bar
Bar High Five (Tokyo, Japan)
Bar Termini (London, United Kingdom)
Bramble Bar (Edinburgh, United Kingdom)
Bulletin Place (Sydney, Australia)
Candelaria (Paris, France)
Happiness Forgets (London, United Kingdom)
Imperial Craft Cocktail Bar (Tel Aviv, Israel)
Limantour (Mexico City, Mexico)
Le Lion Bar de Paris (Hamburg, Germany)
Tales & Spirits (Amsterdam, Netherlands)
Best International High Volume Cocktail Bar

Baba Au Rum (Athens, Greece)
Callooh Callay (London, United Kingdom)
Central Station Boutique Bar (Beirut, Lebanon)
The Clumsies (Athens, Greece)
Eau De Vie (Melbourne, Australia)
The Lobo Plantation (Sydney, Australia)
Potato Head Beach Club (Bali, Indonesia)
Ruby (Copenhagen, Denmark)
Strøm Bar (Copenhagen, Denmark)
Trailer Happiness (London, United Kingdom)
Best International Restaurant Bar
City Social (London, United Kingdom)
Delicatessen (Moscow, Russia)
Duck & Waffle (London, United Kingdom)
Hawksmoor Spitalfields (London, United Kingdom)
Linje Ti and Tjoget (Stockholm, Sweden)
Le Mary Celeste (Paris, France)
Oblix (London, United Kingdom)
Sager + Wilde (London, United Kingdom)
Tippling Club (Singapore)
Zuma (Dubai, United Arab Emirates)
Best International Hotel Bar

American Bar at The Savoy (London)
Black Angel's Bar at Hotel U Prince (Prague, Czech Republic)
Chiltern Firehouse (London, United Kingdom)
The Connaught Bar at The Connaught (London, United Kingdom)
Dandelyan at the Mondrian, London (London, United Kingdom)
Lobster Bar and Grill at the Island Shangri-La (Hong Kong)
Manhattan at the Regent Singapore (Singapore)
Punch Room at The London EDITION (London, United Kingdom)
Widder Bar at the Widder Hotel (Zurich, Switzerland)
The Zetter Townhouse at the Zetter Townhouse Clerkenwell (London, United Kingdom)

Best New International Cocktail Bar
7 Tales (London, United Kingdom)
Black Rock (London, United Kingdom)
Charles H. (Seoul, South Korea)
The Dark Horse (Bath, United Kingdom)
Dead Ringer (Sydney, Australia)
The Gibson (London, United Kingdom)
Gibson Bar (Singapore)
HIMKOK (Oslo, Norway)
Joyeux Bordel (London, United Kingdom)
Oriole (London, United Kingdom)
Writing
Best Cocktail & Spirits Publication
Australian Bartender
Bartender Magazine
Chilled Magazine
Cocktail Lovers
Difford's Guide
Drinks International
Gin Foundry
Liquor.com
The Spirits Business
Whisky & Fine Spirits
Best Cocktail and Spirits Writer
Jenny Adams
Wayne Curtis
Simon Difford
Dan Dunn
Camper English
Alice Lascelles
Sandrae Lawrence
Jeffrey Morgenthaler
Robert Simonson
Naren Young
Best New Cocktail/Bartending Book
Spritz: Italy's Most Iconic Apertivo Cocktail, with Recipes by Talia Baiocchi and Leslie Pariseau
The Tippling Bros. A Lime and a Shaker: Discovering Mexican-Inspired Cocktails by Tad Carducci, Paul Tanguay and Alia Akkam
Good Things to Drink with Mr Lyan and Friends by Ryan Chetiyawardana
The Cocktail Chronicles: Navigating the Cocktail Renaissance with Jigger, Shaker & Glass by Paul Clarke
The Experimental Cocktail Club: Paris, London, & New York by Romée de Goriainoff, Pierre-Charles Cros, Olivier Bon, Xavier Padavoni
Ten Cocktails: The Art of Convivial Drinking by Alice Lascelles
Drinking the Devil's Acre: A Love Letter from San Francisco and her Cocktails by Duggan McDonnell
The Dead Rabbit Drinks Manual: Secret Recipes and Barroom Tales from Two Belfast Boys Who Conquered the Cocktail World by Sean Muldoon, Jack McGarry, and Ben Schaffer
The Craft Cocktail Party: Delicious Drinks for Every Occasion by Julie Reiner
Best New Spirits Books
Bitterman's Field Guide to Bitters & Amari: 500 Bitters; 50 Amari; 123 Recipes for Cocktails, Food & Homemade Bitters by Mark Bitterman
Divided Spirits – Tequila, Mezcal and the Politics of Production by Sarah Bowen
The Year of Drinking Adventurously: 52 Ways to Get Out of Your Comfort Zone by Jeff Colett
Vermouth: The Revival of the Spirit that Created America's Cocktail Culture by Adam Ford
How the Gringos Stole Tequila: The Modern Age of Mexico's Most Traditional Spirit by Chantal Martineau
Bourbon Curious: A Simple Tasting Guide for the Savvy Drinker by Fred Minnick
Bourbon Empire: The Past and Future of America's Whiskey by Reid Mitenbuler
El Gran Libro del Vermut: Con Mas de Cien Maneras de Tomárselo by François Mont
The Art of American Whisky: A Visual History of the Nation's Most Storied Spirit, Through 100 Iconic Labels by Noah Rothbaum
Global Categories
Best Bar Mentor
Bridget Albert
Derek Brown
Jason Crawley
Francesco Lafranconi
Don Lee
Dré Masso
Lauren Mote
Agostino Perrone
Andy Seymour
Angus Winchester
Best New Spirit or Cocktail Ingredient 
Caña Brava 7-year Reserva Añeja Rum by the 86 Co. (Panamá)
Campo de Encanto "Barkeep's Whimsy" Pisco (Perú)
Lagavulin 8-Year Old – 200th Anniversary Edition (United Kingdom)
Midwestern Dry Gin by J. Rieger & Co. (United States)
Orphan Barrel Gifted Horse Whiskey by Diageo (United States)
Plantation Stiggins' Fancy Pineapple Rum (Barbados)
Ragtime Rye by New York Distilling Company (United States)
Riserva Speciale 'Rubin' Vermouth by MARTINI & ROSSI (Italy)
Rutte Celery Dry Gin by Rutte Spirits (Netherlands)
Rutte Old Simon Genever by Rutte Spirits (Netherlands)
World's Best Cocktail Menu
American Bar at the Savoy (London, United Kingdom)
The Aviary (Chicago, United States)
Baba Au Rum (Athens, Greece)
Charles H. (Seoul, South Korea)
Dandelyan (London, United Kingdom)
Little Red Door (Paris, France)
Lost Lake (Chicago, United States)
Mace (New York, United States)
Nightjar (London, United Kingdom)
Trick Dog (San Francisco, United States)
World's Best Spirits Selection
American Bar at the Savoy (London, United Kingdom)
Amor y Amargo (New York, United States)
The Baxter Inn (Sydney, Australia)
Daddy-O (New York, United States)
Multnomah Whiskey Library (Portland, United States)
Old Lightning (Marina Del Rey, United States)
The Office at The Aviary (Chicago, United States)
Smuggler's Cove (San Francisco, United States)
Tommy's (San Francisco, United States)
Whitechapel (San Francisco, United States)