Cold Drip Negroni
100ml batched Negroni
30g filter-ground coffee
Cut the end off a 500ml plastic water bottle. Pierce the cap with a needle. Assemble the aeropress, with a moistened filter paper in place, and place the aeropress on top of a mixing glass. Place the coffee inside the aeropress, then moisten the grounds with 30ml of Negroni mix, and agitate the mix. Level out the coffee, then place a second wet filter on top of the coffee. Place the dripper bottle into the aeropress, add ice and the rest of the Negroni batch. Let drip for as long as it needs to drip through.
Story by Sam Bygrave
Photography by Christopher Pearce
Presented

S
ometimes a drink sticks with you. Like a song that you just can't get out of your head, sometimes the taste of a drink stays with you long after the first sip.
ADVERTISEMENT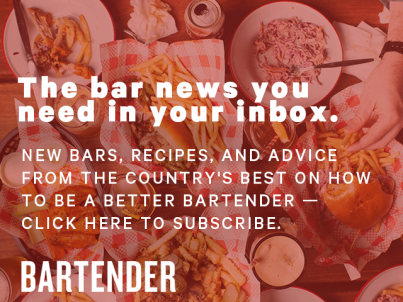 &nbsp
That's the case for the Cold Drip Negroni that I had at Enrique's School For To Bullfighting in Perth, a few years ago now. But it's not your regular Cold Drip Negroni recipe. Instead of adding cold drip coffee to a Negroni, the bar manager at the time, James Connolly, would let a batch of Negroni drip through ground coffee overnight — for 12 hours — then they bottled it up and serve it over ice to order.
I loved that drink, and haven't had one that is quite the same since.
I've wanted to make one for some time, but the fancy Japanese cold drip equipment sets you back hundreds of dollars. So we found a solution, by way of hacking an Aeropress.
But first up, why would you want a cold drip Negroni in the first place?
Coffee nerds will tell you that the cold drip process results in a sweeter, lower-acid brew. When you take that coffee and drip batched Negroni through it, you get a slightly sweeter, integrated and rich coffee flavoured Negroni.
The recipe we have here has been cobbled together from a few places online — you can scale up the recipe as needed, just make sure you increase the coffee by similar proportions. All you need is an Aeropress coffee maker — we picked ours up for $45 and you can probably find them cheaper — and a plastic bottle of water to create your dripper.
We made about 150ml for this story, and it took around an hour to drip through (you want the drip rate around 40 drops a minute); that time will increase the bigger the batch you brew.
We've used a coffeee roasted for espresso; it's a slightly darker roast and that means there's sweeter characters coming through in the final drink.
We've used a filter grind for this coffee — if you use a finer espresso grind, it's going to be tough getting the drink to drip through!