Day 2 of the 42BELOW Cocktail Earth Cup — today, it was about a more sustainable you (with a view).
If you're just catching up, we're in Queenstown, NZ, where five teams of two bartenders each from Australia and New Zealand have come together to battle it out in the 42BELOW Cocktail Earth Cup. Whilst they're here, they've got to serve up a great tasting drink with sustainability principles at its heart — and to participate in the great events the team has put on.
The bartenders kicked things off yesterday with a session of bartender yoga, before getting down to a good breakfast and a chat from Bacardi-Martini's global trade advocacy director, Jacob Briars and Employees Only Singapore co-owner and principal bartender, Steve Schneider, about building a sustainable career.
After that, they got ready for the day's big surprise: told only to pack their phones and nothing else, they headed to the airfield and jumped aboard a few 42BELOW helicopters to scale the heights of the snowcapped alps and land at Cecil Peak.
ADVERTISEMENT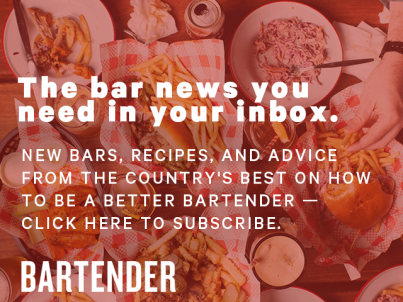 &nbsp
Once they'd landed — and with a few minutes to take in the breathtaking vista before them — they got down to a useful seminar on treating the body well for a sustained career in the industry and picked up some meditation tips, before grabbing a golf club and setting themselves to the task of smacking a biodegradable golf ball off the peak into Lake Wakatipu below.
(Make sure you head to The Sustainable Bar and check out the tips for greening your bar — advice from the sustainable you session will be online soon).
It's even more fun than it sounds (though swinging a golf club on icy snow does test one's balance).
From there, they boarded the choppers and careened down the mountain, coming to rest at a beautiful house set on the flatland with the Remarkables looming above them. Lunch — you could really call it a feast — was served.
With the day's activities coming to a close, each of the teams visited the bars from which tomorrow night they'll be serving a public with an appetite for great drinks, to familiarise themselves with the layout, meet with the guys who run the bar, and ready themselves to take out this year's 42BELOW Cocktail Earth Cup.
After that? Well, it was time for some reconnaissance of Queenstown — and more banging 42BELOW drinks.
Stay tuned for more updates as the competition progresses, and follow all the action on social media with the hashtag, #42CEC. For more on how to implement your own sustainable bar program, check out the new series from Australian Bartender & 42BELOW, The Sustainable Bar.
Get a look at more great shots from the day below.