T
here's been a lot of talk lately about the return of chef David Thompson to Sydney. Thompson is one of the most highly regarded chefs working with Thai flavours, and, having built his name in Sydney before taking London by storm, he's now bringing Long Chim — his restaurant and bar that you may recognise from such cities as Perth — to the place where it all began.
Opening to the public on the 29th of August, Long Chim Sydney no doubt will have Thompson's great take on Thai, but they're also taking the bar side of things seriously.
In recent weeks Long Chim Perth bar manager James Connolly has been in Sydney getting things set for the bar, and he's brought in Keegan Hartslief as bar manager. Hartslief has recently been at Melbourne bars Bad Frankie, Rum Diary Bar, and Boilermaker House, as well as a stint in Perth working at The Flour Factory. But it was at Long Chim in Perth where he started working with James Connolly, which led to his role in the Sydney outpost of the restaurant.
Together, Connolly and Hartslief are wanting to elevate the role that cocktails play in a restaurant.
"I want to add to the experience and to make it feel like there's a bar, it's not just an attachment," said Hartslief.
ADVERTISEMENT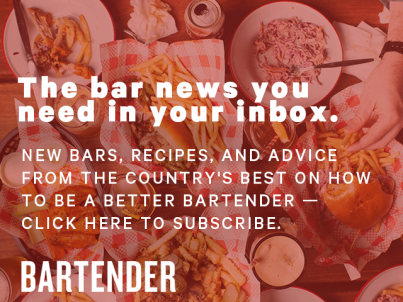 &nbsp
"I think more and more restauranteurs are seeing the way that places like Rockpool and Longrain were trendsetters, the drinks had just as much focus on them as did the food," said Connolly. "Really smart restauranteurs, these days they've got a really strong focus on the bar," Connolly said.
At Long Chim Sydney there'll be a core of cocktails familiar to anyone who has had the pleasure of the Perth restaurant, one which will also be present when Long Chim Melbourne opens towards the end of the year.
"There'll be a core set of drinks that we use [across the venues], and then the rest will be bar-specific, so it gives them a chance to have their creativity and be involved," Connolly said.
You can expect drinks which incorporate each of the five tastes that when combined are a hallmark of Thai food: sweet, sour, spicy, bitter, and salty. The drinks are often long and refreshing and suitable for a number of dishes throughout the menu, but they've also got options for those not wanting these bigger drinks.
"We've got a Thai chenin blanc and a Thai syrah," said Connolly, "and like we do in Perth we try to support local producers — so beers from Young Henry's, Wayward, and we've got some awesome expressions of wines from Orange and Canberra District and Tumbarumba."
Long Chim Sydney opens in Angel Place in Sydney on August 29th.