It's been an action-packed few days in Queenstown, with the 42BELOW Cocktail Earth Cup hitting town. Yesterday, the third and final day of the competition (you can read up on day one here and day two here) tested the bar teams in ways for which they could not have prepared.
The challenge of the morning put each of the bar teams to the test, brought them face to face with their fears, and saw a number of bartenders reach deep down to find courage and to overcome: that's right, they took the bartenders and threw them off a bridge.
They were granted a bungee rope, mercifully. Each team tandem jumped some 43 metres; but the challenge didn't stop with the jump, because this is the 42BELOW Cocktail Earth Cup and we were here to see some drinks. Once they'd plunged from the bridge, they then had to run back up the mountain and from a mystery box of ingredients whip up an inventive take on the Chi Chi cocktail.
And because the Chi Chi is a blended drink — think a Pina Colada with 42BELOW vodka — and because this is a competition focused on sustainability, they had to take their blended jug to Bill the Blender Bike, using their own leg power (despite having a heart rate going through the roof and enough adrenalin coursing through their veins to bring the dead back to life) to blend their drink towards deliciousness. They were timed, and marked on the drink by the esteemed judges: global trade advocacy director Jacob Briars, Employees Only Singapore co-owner Steve Schneider, and Bonnie Sheraton of Brisbane venues Red Hook and Coppa.
With that challenge locked away, they had the afternoon to prep, batch, and get their heads sorted for the final challenge of the competition. They had to sell their drinks, which they'd developed in the first challenge on day one, to an eager Queenstown public. It was a great sight to see that despite the trans-Tasman rivalry the bar teams competed in good spirits, with one Kiwi team and one Aussie team in each of the five bars participating in Queenstown.
ADVERTISEMENT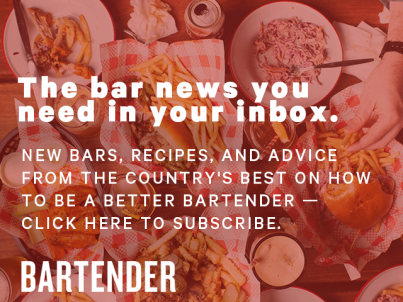 &nbsp
After this final challenged finished it was off to the after party at The World Bar to dance the night away and hear the winners announced. It was team Australia who won the overall country versus country battle, with the highest average score among the teams coming from Australia; but the one bar team which outperformed their compatriots and the Australians was the team of James Millar and Cameron Attfield from The Gin Room in Auckland. They'll be back next year as judges when the 42BELOW Cocktail Earth Cup returns to Queenstown.
Check out all the action on social media with the hashtag, #42CEC, and for more on how to implement your own sustainable bar program, check out the new series from Australian Bartender & 42BELOW, The Sustainable Bar.