KIWI VODKA CHALLENGES AUSTRALIA'S BEST MINDS TO INNOVATE OUR WAY TO A PURER PLANET
How can we innovate our way to a purer planet? That's the question one hundred and fifty young entrepreneurs and creatives are answering at Junket's three-day "unconference" starting this Sunday 25th September at QT, Canberra.
42BELOW Vodka is laying down the challenge to these motivated minds to come up with some innovative solutions to keep our Earth green. Jacob Briars, legendary Vodka Professor and Global Advocacy Director at Bacardi explains, "New Zealand's pristine environment is the source of our AA rated spring water used to create 42BELOW Vodka. We are lucky to have such incredible resources, and we need to make sure we keep them that way by giving back where we are able to. We believe bright young innovators can come up with some simple solutions so we can create a positive impact to the environment – and we want to support this."
42BELOW's Junket challenge follows on from August's 42BELOW Cocktail Earth Cup, where the Kiwi vodka brand brought together a group of Australian and New Zealand bartenders for a sustainably focused cocktail competition in Queenstown. In what 42BELOW calls 'their spiritual home' they hosted some of these countries best bartenders to a sustainability education and engagement week where they learnt about zero-waste bar practice, as well as finding time to jump off bridges, blend cocktails powered by bicycles and make lots of great 'eco-friendly' cocktails.
Now at Junket, 42BELOW is turning its attention to the other side of the bar to see what ideas these future leaders of Australia can bring to the table. Jacob Briars will open the first spot on day one of action packed Junket calendar, 42BELOW's Pure Thinking Session. At this kick-off event he will introduce the simple ways 42BELOW is trying to help keep the planet pure before allowing the delegates to use their own experience and passion to tackle this challenge. Briars adds "42BELOW is offering a $4,200 grant for the winning eco-preneur to bring their idea to life. 42BELOW was born in a garage in Wellington, NZ and ten years later it was the World's most awarded vodka. When we live at the bottom of the planet, it's in our nature to want to dare convention and do things differently. This week we hope to find and support an individual that can generate an idea, big or small, with environmental sustainability at its heart."
ADVERTISEMENT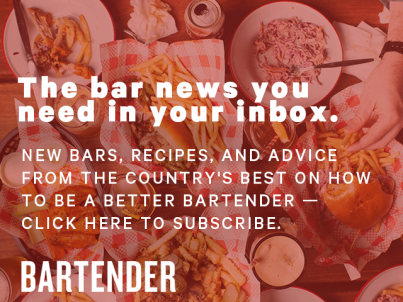 &nbsp
For more resources on sustainability and tips on greening your bar, visit The Sustainable Bar by clicking here.