Liqueurs and syrups: they're crucial to any number of classic cocktails. A sweetening agent has been necessary ever since that oft-quoted definition of the cocktail appeared back in 1806, which described it as a concoction "composed of spirits of any kind, sugar, water and bitters." That's because as well as aiding the balance of a drink, sugar is also a flavour enhancer, much like salt. Many a bartender has had that moment when a drink made up on the fly just tastes a little off; well grab that gomme and get a little of it in your drink, because it will smooth out the edges a bit.
Of course, that sweetness isn't always in the form of straight-up sugar. It could be present in a syrup, such as a straight-up simple syrup, or something more exotic to add an accent of flavour to the drink (the range of syrups available to the bartending world seemingly has no end); or it could be present in any number of cocktail modifiers — more of which we'll delve into below.
Modifiers
When you take the old-school definition of a cocktail — spirits, sugar, water, and bitters — there's only so many variations on that theme you can achieve by switching out the base spirit, say, or changing up from whiskey to genever (and we don't mind a Genever Cocktail at all). But when you add a modifier to that recipe — say, curaçao, in place of the sugar — you start to open up the possibilities (and pick yourself up an Fancy Genever Cocktail instead).
Change the curaçao for absinthe and maraschino liqueur, and you're into Improved Cocktail territory. Switch the liqueurs for sweet vermouth — and hey, it's not too long until you arrive at the Manhattan.
But what exactly is a modifier? Our favoured definition is one that comes from American writer Camper English. On his Alcademics blog, English defines a modifier thus:
"A modifier is a cocktail ingredient, usually alcoholic and typically a fortified wine or a liqueur, that both softens the base spirit and adds flavour to the drink."
ADVERTISEMENT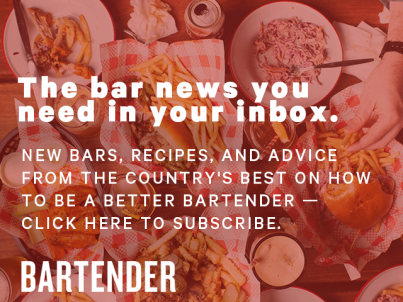 &nbsp
In that case, is a syrup — say, grenadine — a modifier? We'd tend to think that syrups, like bitters, would fall into the category of accents.
Improved Brandy Cocktail recipe
50ml H by Hine VSOP Cognac
2 dashes of Angostura aromatic bitters
7.5ml sugar syrup
7.5ml maraschino liqueur
5ml absinthe
Stir all ingredients and strain into a chilled coupe. Moisten the rim with lemon twist, dropping the garnish into the drink.
Accents
Much of the time, when you're using syrups in a drink, you're using them as accents: think of the orgeat in Trader Vic's Fog Cutter, for example; the role of falernum in the Corn & Oil, or for that matter, in the Royal Bermuda Yacht Club. They complement the base spirit, highlighting some note of the spirit in a different way.
Some sweet terms
There's a few terms that, particularly if you're new to the game, you'll want to wrap your head around.
Gomme, Simple Syrup, Sugar Syrup
These are all words for the same thing. You'll see simple syrup used a bit more in the US bartending dialect, and the French word gomme gets a run in Europe.
2:1 Syrup
The clue here is in the name. Whereas simple syrup is half sugar, and half water, 2:1 syrup is two parts sugar to every part of water. The benefit of using 2:1 is that your drink will dilute less for the same amount of sugar.
Other Sweeteners
Sugar isn't the only way to sweeten your drinks. The Romans used honey before sugar was readily available, and there's nothing wrong with using it in place of simple syrup in your favourite recipes — it will add a different flavour to your drink, and flavour, after all, is what we're all about.
You may however like to consider watering down your honey. Using a 2:1 or 1:1 ratio means that you'll be able to measure and dispense the required amount of sweetner more readily — it's a pain to be scooping honey out of jar with a spoon and into a jigger.
And don't forget agave syrup. This is a sweetener that is low on the glycemic index, and often found in health food shops because it's usually an organic product.
Rum Runner
22.5ml 151 proof rum
20ml 1883 Grenadine
25ml Lena Banana liqueur
25ml crème de cassis
Blend with ice and serve in a tiki mug.
Adapted from a recipe by Tiki John Ebert (1972) in Beachbum Berry's Grog Log
Royal Bermuda Yacht Club
50ml Mount Gay Eclipse Rum
20ml Fresh lime
10ml Monin Falernum
Dash Cointreau
Add all ingredients to a mixing glass. Shake briskly and strain into a chilled cocktail glass.
Adapted from Bartender's Guide by Trader Vic, 1947
9 sweet options for your bar
Monin Falernum: If you're thinking tiki, you'll need Monin's Falernum. It's a mix of spices, lime and almond, and is a staple ingredient in many tiki drinks. It's also featured in fine classic cocktails like The Royal Bermuda Yacht Club and the Corn & Oil.
Stuart Alexander
Amarula: Amarula is made using the marula fruit, and has a distinctive flavour. It's made by double distilling marula wine then oak-ageing the spirit for two years before blending it with the finest, freshest cream.
island2island
1883 Gourmet Agave Syrup: 1883 Gourmet Agave Syrup is another one in the fine collection of syrups from French producer Maison Routin — it's full of sweet agave flavour.
PosiPour
Frangelico: One of the most recognisable proprietary liqueurs out there. Frangelico is a hazlenut — or, to use the French, noisette — liqueur that is blended with select herbs and spices.
Campari Australia
Tempus Fugit: Based on old timey recipes, these liqueurs have got bartenders excited about things like crème de menthe and crème de cacao — an excitement we hadn't seen before. They've got some killer bitters too, but we've been rhapsodising about the Crème de Menthe — it's ridiculously good. .
Vanguard Luxury Brands
Galliano: Created in 1896 in Livorno, Italy, by Arturo Vaccari, Galliano is made from a special blend of 30 herbs such as star anise, juniper and other floral aromatic ingredients. It's a complex liqueur, the result of seven infusions and six distillations.
CCA
St Germain: Made from freshly picked elderflower blossoms, St Germain possesses a purity of flavour, with characters that suggest pear, peach and grapefruit — it's a delicate, subtle flavour unique to St Germain.
Bacardi-Martini
Massanez Garden Party Liqueurs: Here's something unique and new from fine French producer Massanez. They're celebrating vegetable and herbal elements with their new releases, like Basil, Thyme, Dried Tomatoes, Carrot and more.
Cerbaco
Disaronno: Disaronno is made without almonds or nuts of any kind, by infusing a combination of herbs, caramelised sugar, apricot kernels and fruits in liquor. The recipe has been handed down over the generations since 1525, and key aromas are almond, cacao, and vanilla.
Spirits Platform