Tequila and mezcal — they're spirits in a class of their own. And with Day of the Dead celebrations kicking off from November 1st, Alex 'Happy' Gilmour from Tio's Cerveceria in Surry Hills has got a few recipes to get you started. Yes, you will want these.
Vampiro
• 30ml Espolon Anejo
• 20ml Beetroot Juice
• 10ml Lime Juice
• Lemonade
Salt rim a double old fashioned glass.  Build in glass and fill with lemonade to half full. Top with ice.  Use a microplane to zest a lime husk over the ice.
The Vampiro is a Tio's original that's all about the beetroots. "That was [Tio's owners] Jeremy Blackmore and Alex Dowd jumping in together and wanting to do something that's fresh, produce-driven," says Gilmour.
ADVERTISEMENT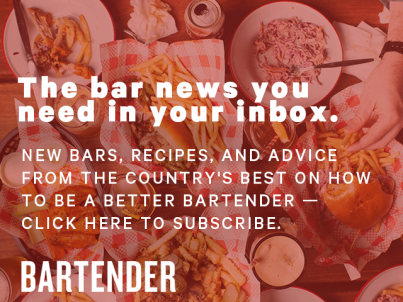 &nbsp
"[It's to] try to integrate a different flavour and get a vibrant colour out of it. Honestly, it's really tasty, people just get freaked out by it because of the beetroot. When it first came on the list, that was our 11 o'clock drink when you were exhausted and you wanted to kick on for another hour."
Batanga
• 60ml El Tequileno Blanco
• 15ml Fresh Lime Juice
• Coke to top
Salt rim the glass. Build and top to half to half way with coke.  Top with ice.  Stir with knife and leave in with a straw.
The Batanga is a simple drink that transcends its humble origins.
"The reason we serve it with a knife is, Don Javier, the guy who owns La Capilla and has run it for the past half a century, he says the secret is that he cuts up his homemade salsa — lime, onion and tomato — with the knife that he stirs the cocktail with, and that's why it tastes so good," says Gilmour.
"So we put a knife in to pay homage to him. Whether he's the guy who actually invented the drink is another issue. The Charro Negro is the same cocktail from the rest of Mexico — they don't call it the Batanga."
Toreador
• 40ml Suerte Blanco
• 20ml Apricot Brandy
• 30ml Fresh Lime Juice
• 1 Dash Angostura Bitters
Add all ingredients to a shaker and shake with ice.  Single strain into glass.  No garnish.
Tequila and apricot brandy — it's a drink that bartenders love.
"This is a classic that pre-dates the Margarita," Gilmour says. "A classic mix, one of the most-known tequila cocktails — we add a dash of bitters in there, just to bring down the sweetness of the apricot brandy so that it's closer to how we like our drinks, which is punchy and sour."
Ambar Sour
• 40ml ArteNOM Seleccion 1414 Reposado
• 30ml Fresh Lemon Juice
• 15ml Ironbark Smoked Honey Syrup
• 15ml Eggwhite
• Spray of Islay Whisky
Add all ingredients in shaker and dry shake.  Add ice and wet shake.  Single strain over ice into glass and add a metal straw and dehydrated lime wheel.  Spray Islay whisky over the top of the drink.
For this drink, the Tio's team draws on an ingredient from a felllow Sydney restaurant.
"It's a sour," says Gilmour, "but it uses a couple of other elements like a smoked honey by LP's Quality Meats, which is an ironwood smoked honey, lemon, and a reposado tequila and egg white so it gives out this froth in these religious looking Governor Clinton glasses.
"It's based on the classic sour style of egg white, lemon juice and spirit with a sweetener in there, then we put an Islay smoke on the top to play with the senses."
Matador
 
• 30ml Mezcal Vago Elote
• 30ml House Banana Brandy
• 30ml Fresh Lime Juice
Add all ingredients to a shaker and shake with ice. Single strain into glass. Drop a Luxardo cherry in the bottom.
There's an overarching theme with the drinks at Tio's: while many of the drinks share a classic cocktail as a base, they always try to riff on that and bring a touch of their own to bear.
"We wanted to play on that [Toreador] style of cocktail," Gilmour says.
"We made our own banana brandy, we soaked bananas in cognac and cut it with agave and sugar syrup. And like a lot of our classic revamps, it's just a simple easy crib so equal parts fresh lime juice, mezcal, and this homemade banana brandy with a Luxardo cherry — it's super delicious."
Margarita
• 40ml Jose Cuervo Tradicional Plata
• 20ml Cointreau
• 30ml Fresh Lime Juice
Salt rim the glass. In shaker add tequila, cointreau and fresh squeezed lime juice.  Shake with ice and single strain into coupette.
Finding a guest who has not had a Margarita before may be a difficult task; finding a guest who has had one they haven't liked before? Less so. But you can expect the Margarita at Tio's to be up to spec.
"We don't fine strain, because we like the fine ice layer in there," Gilmour says of their version. "We do that with all our shaken drinks, and
it's just the perfect balance with no sugar involved so it's the right acidity, it doesn't
come across too sweet, and it's probably
our best selling cocktail."
Patrice's Margarita
• 45ml Arette Fuerte 101 Blanco
• 90ml Whey Fermented Soda
Rim glass with volcanic black salt.  Build in glass and add a large titanic ice rock.
This, put simply, is one of the more left-field drinks we've had — but it still tastes great. A little funky, a whole lot of delicious, thanks to the fermented whey they use to make a custom soda.
"That's our whey ferment," Gilmour says, "that we did specifically for World Tequila Day. We played with making the cottage cheese, and then the contrast of the musky white look with the black volcanic salt, it just rocked — it's essentially a natural Margarita without any of the extras."
La Diabla
• 30ml Cinnamon and Passilla infused Ocho Blanco
• 10ml Agave Syrup
• 30ml Fresh Lime Juice
• 2 bar spoons House Red Wine and Grapfruit Jam
Add all ingredients into shaker with ice and shake unbelieveably hard!  Single strain into glass and garnish with a dehydrated lime wheel.
Continuing that theme of riffing on the classics, comes this drink: the La Diabla.
"It was our play on the El Diablo, [using] the style and colour, but we used a homemade red wine and grapefruit jam, homemade spiced tequila liqueur which we call miel (it's a bit of spice and cinnamon cut with agave syrup)," says Gilmour. "Then fresh lime juice, shake down, and it's served up with a nice
dehydrated lime."
El Diablo
 
• 30ml Sauza Hornitos
• 15ml Fresh Lime Juice
• 10ml Hibiscus Syrup
• Ginger Beer
Build in glass sans Hibiscus syrup, Gingerbeer to half way.  Top with ice.  Sink Hibiscus syrup down the side of the glass.  Garnish with straw and used lime husk.
Even the Trader Vic classic, the El Diablo, gets a reworking a la Tio's.
"I think tequila, lime and ginger beer is the most sessionable drink in the world," says Gilmour. "You know, the Dark & Stormy — anything with ginger beer really works, and the El Diablo is a nice, little bit sweeter variety. We use hibiscus syrup instead or creme de mure, to give it our twist on the cocktail with a Mexican influence. I recommend it to almost everybody."
Some top tequila
Arette Fuerte 101 Blanco
Tequila Arette has been a bartender favourite for a while, and this 50.5% ABV blanco expression — fuerte translates to English as strong — is one you'll like to deploy in your cocktails. There's no dilution, just great agave flavour. Mextrade.
Suerte Blanco
Suerte Blanco is a 100% blue agave tequila, using agaves that have been cooked in a hornos and crushed in the traditional tahona manner. Herbal notes, citrus and agave sweetness are what you can expect from this drop. Try it at Tio's.
Joce Cuervo Tradicional Silver
This is 100% blue agave tequila. The agaves are cooked in an artisanal way, for between 36 and 40 hours. It has a fresh, crisp taste, with a nice white peppery bite to it, and is ideal for mixing with cocktails. island2island.
Mezcal Vago Elote
Mezcal Vago Elote is infused with roasted corn between the first and second distillations. Elote has a nose full of smoky toasted corn and dry river stones. The body is sweet with wood tones and layers of honeycomb, green tropical fruit, and smoke. It has a prolonged finish loaded with mint and papaya. Artisan Handrafted.
Sauza Hornitos Reposado
Sauza Hornitos Reposado is a 100% Blue Agave tequila that is double distilled and rested in 40,000L American oak vats for two months, delivering a pure and lively agave flavour on the palate. Beam Suntory.
Tequila Ocho Blanco
Tequila Ocho is made by Carlos Camarena, a third generation Tequilero, in partnership with Tomas Estes. It's tequila made slowly in an artisanal way. The result is a fine quality spirit that accentuates the agave flavour. It is concentrated and complex while remaining balanced and easy to drink. Vanguard Luxury Brands.
El Tequileño Blanco Tequila
This stuff is near impossible to find in Australia, but the Tio's team have a couple of bottles kicking around. It's notable because it's a mixto tequila — and it's one that tastes great thanks to a pretty high percentage of agave sugars — and one which is ideally suited to the Batanga, as it's done at La Capilla in Tequila town itself. Try it at Tio's.
ArteNOM Seleccion 1414 Tequila Reposado
Made at the Vivanco Destileria El Ranchito in the Tequila highlands of Arandas, this is estate-grown, well-balanced 100% blue agave tequila produced in pot stills and carrying a rich taste. Cerbaco.
Espolon Anejo
Espolon Anejo is finished in former bourbon barrels, after being aged for one year in new American oak barrels. features complex roasted agave and wood characters on the nose with hints of dried fruits and butterscotch. On the palate, it is medium to full-bodied, and wonderfully balanced with a velvety texture in the mouth. There's subtle notes of caramel, vanilla, dried fruits, and chocolate coming through. Campari Australia.