When times are good, people celebrate at the bar; when times are tough, they're commiserating there, too. Whatever the cause, the cocktail offers a little of the luxe life, and there's few cocktail lists as experiential as that from Eau de Vie.
Eau de Vie has garnered accolades for many things in the years since it opened its first outpost in Sydney: it scored World's Best New Cocktail Bar in 2011 at Tales of the Cocktail, won the Bartender Magazine Australian Bar Awards title of Cocktail Bar of the Year, and their cocktail book, Shaken, Stirred, Flamed and Thrown: Cocktails done the Eau de Vie Way, was named World's Best Cocktail Book in 2015 — and that's just a few of the awards they've acquired over the years.
When the original Sydney outpost of Eau de Vie opened, they brought a new, high-end experience to the Sydney scene (one that followed to the opening of Eau de Vie Melbourne, too): plumes of liquid nitrogen might be what they're well known for, but many of the drinks on their list since the early days have offered punters an escape from their everyday ordinary. We caught a look at their most recent menu, released in time for Spring, and hassled them for some notes — and these great images.
Money to Burn
• 35ml spiced rum
• 5ml Monin coconut syrup
• 20ml apricot brandy
• 20ml sloe gin
• 10ml dilution
• 3ml lactart
• 1ml saline solution
• 20ml egg white
Dry-shake, then shake with ice. Garnish with nutmeg and flash money.
"Coconut spiced rum, sloe gin, apricot brandy pair upon one of our personal favourites, reinvigorated with a little liquid magic and a fiery surprise. Trust us."
ADVERTISEMENT
&nbsp
Colonel's Pearl
• 40ml Appleton Estate V/X
• 10ml apricot brandy
• 10ml Aperol
• 20ml lemon myrtle shrub
• 10ml toasted pistachio syrup
• 15ml lemon juice
• 30ml quince soda
Shake and fine strain. Garnish with dehydrated lime, grated pistachio, and banana leaf.
"Floral, rich and aromatic Jamaican rum, apricot, lemon myrtle & quince soda create a full-bodied and uncommon tiki-styled twist on the classic Mai Tai."
Conch Colada
• 30ml aged dark rum
• 20ml salted coconut milk
• 5ml Monin pineapple syrup
• 5ml grenadine
• 30ml coco & cacao wine
• 15ml lemon juice
Shake, strain, and garnish with dehydrated pineapple and black salt.
"A lighthearted riff on the classic Pina Colada that combines rum, salted coconut, pineapple syrup, citrus and cacao-nib infused wine, all served in a giant seashell."
Banderillero
• 40ml chorizo-infused mezcal
• 15ml Aperol
• 15ml pineapple vinegar
• 20ml lime juice
• dash of Bob's Bitters
Shake and fine strain into a bull's horn with a smoked paprila rim.
"A drink served in a real bull's horn! Need more? Okay, chorizo infused mezcal, pineapple vinegar, Aperol, lime and habanero bitters. You
need this."
ADVERTISEMENT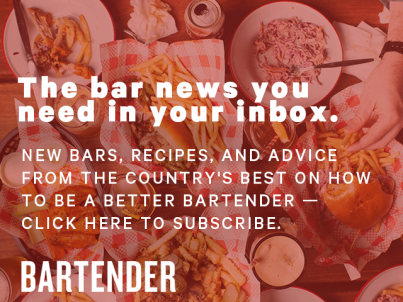 &nbsp