Part roving pop-up, part platform designed to help raise awareness and to offer solutions to the waste created in bars every night, Trash Tiki is a UK outfit from White Lyan and Dandelyan bartenders Kelsey Ramage and Iain Griffiths (whom you may know from previous stories
here
and
here
).
As well as taking their ideas on tour, the duo have a number of ideas and recipes up on their site, trashtikisucks.com, and are bringing a brash sensibility to the often dry topic of sustainability.
They're looking at making use of all the stuff that goes into the bin in your bar, with recipes such as Basic Bitch Tepache and Pit Stop Rum (combining avocado nuts and pistachio shells with rum) just the beginning.
Why does this sustainability stuff matter? Well, as we've pointed out in our series on The Sustainable Bar before, it's looking to solve a big problem, it can save you money — and, as Trash Tiki makes clear, it can be delicious AF.
After all, the urge to make hooch from waste is a long and enduring one and part and parcel of the human experience — think of rum (which is a byproduct of the sugar making process) and funky stuff like pomace brandy.
ADVERTISEMENT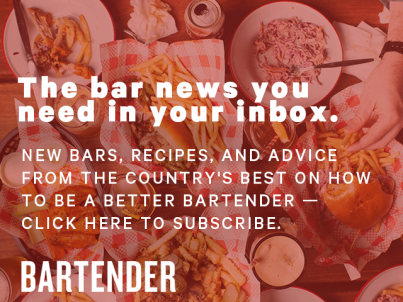 &nbsp
Kudos to the Trash Tiki guys — waste not and drink up.